Series Preview: Cubs vs Astros, We need to sweep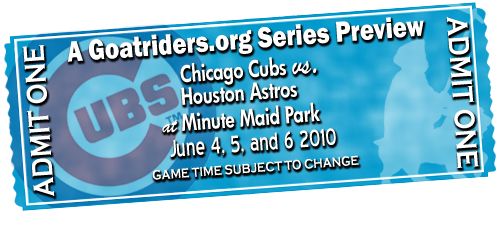 Overview:
The Cubs' 2010 season is currently at a crossroads. They are 6.5 games back of two teams and on the precipise of falling out of the race. Without further ado. Here is a preview of a series that the Cubs should win handily. Of course ,we all know how that has gone this year:
Friday June 4: Carlos Zambrano vs Felipe Paulino
This game marks the triumfant return of Carlos Zambrano. Instead of getting the hapless Pirates (who someone turn into the 1927 Yankees when they play the Cubs), he gets the hapless Astros. In case you didn't know, the Astros are last in almost every relavent offensive category. They have the lowest OBP, the lowest OPS, the lowest SLG, the lowest wOBA and the fewest runs scored in all of baseball. Of course, the Pirates aren't much better and we know how that faired. Still you have to like Zambrano's chances. Z has pitched much better than his putrid ERA and quite frankly I expect him to take the move to the bullpen personally and have one of the best months of his life.
As for Paulino. I'd say he doesn't really need his outfield. He K's a decent amount, walks a bunch also and gets a fair number of grounders. He is coming off of 3 straight quality starts and his last time out, he went 8 scoreless against Dusty's Juggernaut, the Reds. He is beatable, as long as the Cubs wait him out.
Saturday June 5: Carlos Silva vs Roy Oswalt
Is this the meltdown we have all been expecting from Silva? I sort of doubt it but as bad as the Astros are, Oswalt is one tough customer. I know it may be hard for some people to believe but Oswalt is suddenly very underrated. His K rate is higher this year than at any point since his rookie season. His actual ERA is great and it's backed up strongly by the peripherals. Even on a terrible baseball team, Oswalt could be a Cy Young candidate this year. He is supposedly on the trading block and givin his salary, etc, it seems doubtful that he will be dealt but he is one of the better pitchers in baseball and is not to be underestimated.
Sunday June 6: Ryan Dempster vs Bret Myers
If the Brewers offense had the Astros pitching, it would be a pretty fantastic team. Dempster is probably a slightly better pitcher so I expect to win this game. Is it too much to hope that the Cubs bullpen doesn't give any games away here?
I am probably the only writer at this site who is not willing to give up on this team all the way until at least the end of June but I do acknowledge that a sweep in this series is almost necessary. This team needs to start winning soon and not stop if they have any chance this season.

Check Coast to Coast Tickets for World Baseball Classic tickets and best prices on Cubs tickets!