If I didn't know better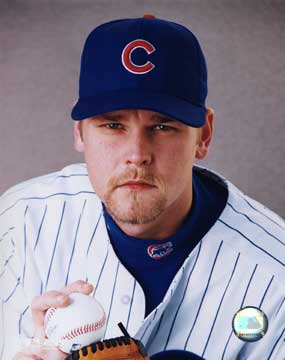 If I didn't know better, I could jump to the first conclusion that this is Cubness At Its Finest: like Holtzman, Jenkins, Maddux, Reuschel, Lieber, etc. let's bring back a great old name from the past, because they were good once? That means they will be good again!
Then, once I got past that notion, then I might consider the presumed mode of operation of the Ricketts Regime, and deem the return of Kerry Wood a stop-gap move. One that seems far more cynical than bringing in Carlos Pena, since the re-acquisition of Wood most certainly triggers a torrential flood of nostalgia that will result in lots of tickets sold, increased ratings on TV and radio, and big-time sales of #34 jerseys.
And, if I were able to get past the second obstacle, I might go back to his previous season, in which he gave up 2 runs in the entire span of his appearances with the Yankees. I might opine that he might have been acquired to not only free up Andrew Cashner for a rotation spot (a bit premature IMO: Cashner could not have been much worse last year) but based on his Yankee stint, to possibly fill the closer void if Carlos Marmol loses command of his weapons-grade slider?
Yes, in fact, bringing back Kid K might in some respects be all of the above. But honestly, I believe it was just a matter of a guy who wanted to be a Cub, at all costs, and a General manager who figured why not. It is as simple as that. Kerry Wood is not going to save the Cubs, and if you remember, as I do, when he was going to be the next Nolan Ryan, his return is bittersweet.
In a sport where so many wrong things happen (hello, Nationals and Jayson Werth?), sometimes it is just so easy to do the right thing. It is just that Kerry Wood is a Cub. He never should have been allowed to leave.