Carlos Zambrano - still the Zambino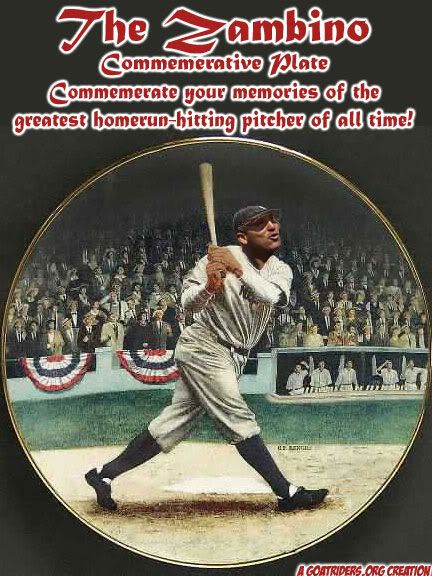 There's a light-hearted Spring Training article in which Carlos Zambrano jokes about wanting to quit pitching to make it as a hitter. This same idea was briefly visited a few months ago, when the Big Moose spoke of how he is ambidextrous and would be willing to throw lefty while playing the field between starts.
It would actually be one of the coolest, most ridiculous stories in baseball were it to ever happen -- but it won't happen because the Cubs are too good. Maybe if they were a last place team with a disinterested fanbase they could experiment with Carlos Zambrano playing left field and batting 6th or something. The thing is, he just might be good enough to make it work.
Over the course of his career, Zambrano has had 494 at bats. He's only batting .239 in that time frame, but he's got 19 doubles, 3 triples, 16 homeruns, and 47 RBI. Not bad for a guy who tends to only see pitches once every four or five days, who also had a very long hits and RBI streak in 2008. If Zambrano ever managed to get the chance to hit regularly, it's probably safe to say that his AVG would go up but the question is if he'd be a little more patient at the plate. Carlos has only ever drawn 5 walks in his career, a Dunston-like figure.
Regardless, you can tell it's a long, slow Sunday when we seriously talk about Zambrano the Hitter, but I have to admit he is a lot of fun to watch. I think if I wind up with another Cubs jersey -- which is probably unlikely to happen for a year or two -- it'll have to be one of the Big Moose.