Goat Camera
I'm back from Brazil and celebrated by attending today's disappointing loss to the Marlins. As Kurt mentioned, Rich Harden pitched well but got into pitch count trouble and didn't last into the sixth. Sean Marshall pitched very well, but gave up a dinger to the Cub Killer Jeremy Hermida.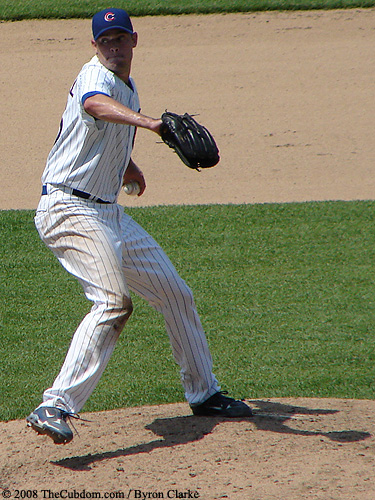 Sean Marshall pitched three innings of one hit ball, but that one hit was Jeremy Hermida's second game tieing home run of the day, and his third in the past two games.
Image courtesy of The Cubdom Photo Gallery
Again, the offense was thin. Aramis Ramirez and Geovany Soto hit solo shots, but two runs in twelve innings generally spells L-O-S-S and today was no different.
Click on the thumbnails below to see some of my gameday pictures in The Cubdom photo gallery. Also, if you check back tomorrow, I'll have a bunch more.
I went to the game tonight, and brought along the goat camera. See Kurt's write up for the game recap. Here's the pics.
Geovany Soto fouls one off. See that white streak? That's the baseball.

How many White Sox does it take to catch a pop fly?

Carlos Quentin - swing and a miss!

Javier Vazquez couldn't get the ball over the plate tonight.

Aramis Ramirez' bat is too hot to handle right now.

Aramis Ramirez rounds third base after his fourth home run of the series.

Bobby Howry came in to mop up after eight great Ryan Dempster innings.
I went to the game last night. The Cubs won, I sat in a Wrigley Field luxury box, and I brought the goat camera as well as the junior goat camera (a Canon Powershot SD1000). Here are a few pics I snapped in between defending the Miller High Life from the guy who was trying to ruin Miller Time.
Ted Lilly mid-delivery
Ted Lilly was on the bump last night. Aside from a 3 run jack he allowed in the first, Theodore Roosevelt was on last night.
Derrek Lee preparing to crush a home run
Derrek Lee hit a solo home run in the third that tied the game. This wasn't actually the pitch on which he did it, but we can pretend. (How far did it fly? 389 Happy feet.)
Ryan Theriot slides into third, Alfonso Soriano scores
I love this picture because it shows everyone playing their role. I showed it to my Russian co-worker who reiterated her belief that baseball is too complicated. She couldn't believe all the runners have dedicated 'advisors'. She also loves ping pong and 'badminton'.
Mark DeRosa lays off a pitch
I was at the game as a guest of a Mr. DeRosa, so I figured I would include this one as well.
For some artistic pictures of Wrigley Field, see my post at The Cubdom.