Astros
As I write this, the Cubs are trailing 1-0.  Jason Marquis has done well, but clearly not well enough, and the Cubs are being 1-hit by Roy Oswalt.  Oops, make that 2-nil, but at least the Mets are beating the Brewers.
Anyway.  It is now September.  The Brewers play an easy schedule this month and will aim to continue their surge against the Cubs.  The Cubs, meanwhile, are a good month away from their first 100-win season since FDR was President.  However, in order to do that they will need to kick off this month by playing a team that would be playoff bound if only they were in the NL West.  I'm talking about the Houston Astros, the definitive example of why the NL Central is the hardest division in baseball this year.  
At 71-66, the Astros are 14 games out of 1st place and 10 games out of the Wild Card.  Their job this month will be to play spoiler.  They take on the Cubs 6 times this month.  Let's take a look at the specific match-ups:
Monday, September 1 - Jason Marquis (9-7, 4.46 ERA) vs. Roy Oswalt (12-9, 4.06 ERA)
Jason Marquis is trying for his 10th win of the season, but he's doing it against Astros ace Roy Oswalt.  Now, I know that there isn't a Cub fan out there who'd feel the slightest bit of good if the Cubs lose their 3rd straight today, but let's just try to keep some perspective.  Jason Marquis is pitching.  
Roy Oswalt is having a respectable year, but the Cubs should really be scoring more runs against him than they are.  Maybe they'll crank it up a notch in the middle innings, but I always get a little uncomfortable when they look offensively ... well, average.  Lately, that's all they've been, if not sub-par.
Tuesday, September 2 - Carlos Zambrano (13-5, 3.53 ERA) vs. Brandon Backe (9-12, 5.42 ERA)
Carlos Zambrano hates Augusts the way some of us hate Mondays.  He's been having a rough go of it as of late, but let us not forget that he would pitch with a knife sticking out of his right forearm, and he'd probably pitch well.  He may be having some weird arm issues this year, but I am confident that the Moose will rediscover his groove sometime before the end of the month.  Maybe it'll be tomorrow.
If Carlos is going to struggle, though, he drew the big straw in his pitching opponent, Brandon Backe.  Maybe Lou did it intentionally - saving Carlos for a game where he can probably afford to cough up a few runs in the 4th or 5th, as the Cubs offense should feast on Backe.   
Wednesday, September 3 - Ryan Dempster (15-5, 2.95 ERA) vs. Randy Wolf (8-11, 4.73 ERA)
Ryan Dempster has, from the purely statistical perspective, become the team ace this season.  He has pitched effectively from the first game to the last, and he seems very capable of reaching 18 on the season.  His opponent on Wednesday will be Randy Wolf, one of several Astros pitcher who make Jason Marquis look like a blessing.  It's really quite surprising that Houston has managed to win 71 games this season when you consider the tools they've been working with.  
Predictions: The best thing about the Cubs: it`s really not over for them until the final out.  They are presently being one-hit by Oswalt, but sooner or later the bats will come out and runs will be scored.  
As I said earlier, nobody wants to see the Cubs extend their current little losing streak.  The Astros are a tough team, but the Cubs are a better one and they could and should take this series.  Being realistic, if the Cubs do lose a game, it will be today`s, but there`s no reason for that to happen.  Chicago could and should put up some runs against Oswalt and the Astros bullpen.
In the meantime, the Mets beat the Brewers today.  No ground will be gained.  Let`s hope that the Cubs are watching the scoreboard and that they understand how beneficial it will be to explode for a 7-spot in the 6th inning.  And they may need that many, because Jason Marquis is having his 5th Inning Self Destruct as this is written.
Hey Jason, relax.  You`ve got another year on your deal, you`re not going to make the post season roster no matter what you do, and the Cubs can`t miss the playoffs because you suck.  With the pressure off your back, just go out there, throw some strikes, and let the magic happen.  Sound like a plan?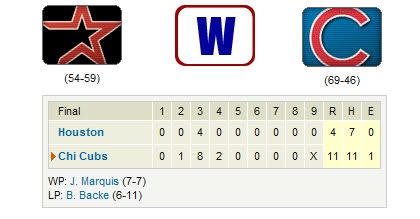 If you were a Cubs fan who has lived through 1974, 1980, 1997, 1999, 2000, 2002, and 2006, then you have seen in this season a Cubs team that's won more games than any of those other Cub teams from those years in 47 fewer games played. Imagine that - the Cubs in the first week of August have already eclipsed Chicago teams that belong in our worst baseball nightmares. It shouldn't give us a feeling of accomplishment; we should be outraged that the Cubs have given us so many wasted seasons.
However, let's take comfort in this - it may not end in the achievment of the ultimate goal, but 2008 does not appear to be another one of those hopeless, wasted years. At the very least, this Cubs team should reach the playoffs, quite possibly with the best record in the National League, and there's a simple reason why. These guys play good baseball and they get big hits. Today was another example of that.
Apparently, Lou Piniella does not read this Cubs blog, to my surprise. If he did, then he might realize the futility that comes with throwing strikes to Carlos "Cliff" Lee. When a Cubs pitcher throws strikes to Carlos Lee, the ball tends to wind up a long ways away from the catcher's mitt, usually by at least 400-or-so feet. In the 3rd inning today, after having surrendered an RBI to Lance Berkman, wonderful* Cubs pitcher Jason Marquis decided that Carlos Lee at the plate with runners on was the equivalent of No Bubbles, No Troubles. He proceeded to deliver to the Astros a 3-run lead on a silver tray, as Lee predictably smacked a 3-run shot into the atmosphere.
(*You don't think Marquis fits the definition of "wonderful?" C'mon, every time he pitches, aren't you filled with wonder about why Jim Hendry saw fit to give him a multi-year contract?)
But, hey, it was okay. It's just that kind of year for the Cubs. They score 4, the Cubs score 4 more. In the bottom of the 3rd, with 2 outs and 2 strikes against him, Mark DeRosa hit a clutch grand slam that was really just the opening card to the main event that is the continued dominance of Alfonso Soriano. (Phew, that sentence was a keyboard-full.) Soriano, who saw his second at bat of the inning thanks to a Fukudome double, a Soto walk, and, more impressive, a double by Marquis, hit another homerun, his 5th since returning from a broken hand*, putting the Cubs in the lead for good. I could almost hear the fight leave the Astros, which was a pretty impressive feat since I was working at the time and I could only follow the game through a sports ticker.
(*Rumor has it that broken hands often cause players to lose power. Maybe that's the case with Soriano, which makes me think that a fully healthy Fonz would be putting up Nintendo Numbers right now. As it is, he's already resembling Roy Hobbs. Luckily for him, Kim Basinger has hit the wall, so he won't have that temptation waiting to toss him back into a month-long slump.)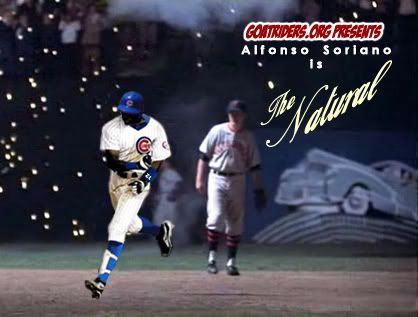 Au Naturale
The Cubs added on to their absurd score in the 4th, giving them 11 runs on the game. All told, the immense Chicago Juggernoffense (I'm coining that phrase, which I'm sure will not be contested since it's pretty lame) had 11 hits, drew 6 walks, and forced an average of 35 tears to trickle down the faces of most Astro fans out there. Jason Marquis went 6.1 innings, looked as mediocore as usual, but still was able to walk away with his 7th win of the season. All told, not a bad day ... or a bad series.
Series Recap:
If the Cubs are able to win 2 out of every 3 games they play this month, then they'll be in a pretty good position come September. As it is, they probably could have swept Houston, but the weather did not cooperate and apparently our Cubs preferred to lose in an offensive sputter rather than win while risking a lightning strike. It's okay, if your friends ask about the near-tornado, just tell them that it was the first seal of the apocalypse cracking open. Forgive me if I'm recycling a joke I've made about six times in the last two days.
The Cubs will now enjoy an off-day before hosting a 3-game set against St. Louis. The Cardinals are perilously on the brink of becoming a non-factor this season. If they lose tonight and tomorrow, then they will be 7 games out of 1st place, and a Cubs sweep will put them in Pittsburgh territory on the year. I'm not saying it'll happen, or even that it's likely to happen, but a Cub fan can wish, right? And, hey, it really might happen. It's just that kind of year.
Current Record: 69-46
Position in the NL Central: 1st place, 5 games in front of Milwaukee and 6 ahead of St. Louis
Best Possible Record: 116-46
Worst Possible Record: 69-93
On Pace For: 97-65
Magic Number: 43, as powered by CubsMagicNumber.com