Harry Caray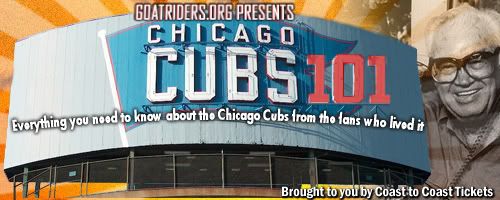 For most of you, Harry Caray was and still is the Voice of the Cubs, and that's nice. For many of you who remember when he first came to Wrigley, you may also equate Harry to what we Goat Riders call the Cubs Renaissance, when the Cubs transformed into something more than lovable losers, but a vital player in the National League, in Chicago, and in their own neighborhood. Many actually CREDIT Harry! In reality, the Cubs staggered out of the P.K. Wrigley regime and became, at least, competitive most years. Perceptions do become realities, though, in most cases, and to many, the voice leading the charge belonged to an orphan from St. Louis who wore butt-ugly Coke-bottle spectacles and loved his Budweiser.
A simple test I give most Chads and Trixies upon meeting is asking them first off if they remember Harry Caray. Oh YEAH, they invariably reply. After all, he is the Patron Saint of Wrigleyville, with not only his grotesque statue (Harry rising up from Hell?) by Gate 4, but also his electric pinwheel icon mounted on top of Murphy's Bleachers in center. Everyone knows Harry, you kiddin'? Yes, I continue, but did you know he was the Voice of the Cardinals for a quarter century? Usually, Chad and Trixie shudder at the mere notion. Occasionally, one will meekly reply that they had heard a rumor that he also did Sox games way back when. Yup, and one season in Oakland, canyoubelieveit?? Crazy old man, they mumble as they walk away...
See, I wasn't in favor of Harry coming over from the start. I knew him, with "crazy" Jimmy Piersall, as the extremely vocal and drunkenly entertaining play-by-play man of the crosstown Sox. Then, as now, they were run on a shoestring, and the two of them would delight whenever "Bill Veeck's lunch-bucket White Sox" would beat up "George Steinbrenner's Millionaire Yankees" on occasion. That's well and good, but my guy was Jack Brickhouse. When Jack could no longer go every day, they brought in Milo Hamilton from Atlanta, another corn-pone kind of guy who brought the game to the little kids and housewives from Keokuk, Iowa. It seemed fairly seamless to me, until the Tribune bought the team and decided to shake things up in the booth.
As it turned out, the Tribune didn't do a God awful lot with the on-field product, but they knew entertainment and programming, forcing the kicking-and-screaming Hamilton out the door after one rancorous year doing games with Harry. I was not used to his kind of belligerence and bombast at the mike for Cubs games...Cubs guys did NOT criticize our own players, or our manager's decisions, or any of that. Clap-clap-clap, let's-go-Cubs! That's how WE like to play.
It was a calculated risk by management - if the Cubs were to continue playing as listlessly as they had since the heyday of the "1969 team", I don't think a 'tell it like it is" announcer would have lasted very long here. Fortunately, the 1984 team made an unprecedented (at least for most of us) run to the postseason, and Harry Caray was the carnival barker, head cheerleader and master of ceremonies for the run. So hell, if we're actually WINNING, then we don't care if the guy upstairs is half crocked, rippin' on the other teams, crowing about our guys in a somewhat unsportsmanlike manner. For, you see, maybe most of us had never rooted for a winner, but Harry HAD, and he knew how to do it right!
So, he came around, in my eyes and those of the rest of the old timers, and I know why this happened, at least speaking for myself. I can smell out a fake, and you can say what you want about Harry Caray's nocturnal activities, or his parenting skills, or his disrespect for authority. But Harry knew what paid his salary. He knew the fans were responsible for the game of baseball. He loved the fans, and he spoke for them, and to them.
I met the man several times, most memorably in his restaurant location in Wheeling, IL. A friend of mine and I pulled in there to watch a few innings of the Cubs in Florida, and this was 1995 or 1996, when he was recovering from his first stroke. He did not go to road games at that time, but under no circumstances did we think we'd actually run INTO the stud. Five minutes after we sat down in his bar, the man himself came out to greet us, bought us a Bud, and we talked about his missing games while he recovered. He said that while it was nice to hang out at his restaurant, he really wanted to get back to the action.
As I mentioned, this was not an isolated incident. I have met him in the concourses at Wrigley, as well as in crowded 'autograph sessions'. No matter how many people are around, or whether he had somewhere to go, it was always important to him to stop, shake your hand, and acknowledge your presence. It doesn't always work that way with famous folk - in fact, it rarely ever does. Harry knew where he came from, and where he was going, and who brought him to where he was - his adoring audiences. Like Billy Williams and Ernie Banks, Harry Caray "got it". He was real, and he won over a whole generation of guys like me, who were brought up on Jack Brickhouse, but found room in their hearts for him, too.
Sponsored by Coast to Coast Tickets, featuring best prices on Cubs tickets.
Before I OFF WAH!, good gadalmighty, the Cubs just had a huge week!  I almost feel guilty writing this now after the other day, and I guess I should.  Nothing has been won, yet, but in all areas - psychological, physical, mental, spiritual, philosophical, artificial, natural - that was a vicious beating!!  I'm not sure what the mindset of the Brewers was, going into this, but whatever Uncle Lou fed our guys for breakfast, it was fortified with 8 vitamins, minerals, and whoop-ass. 
In the quest to avoid the hundred-year-curse, and pulling out all the stops (and of course building small-time corporate synergies, like Harry's, The Cubs and Bud) Harry Caray's Restaurants have unearthed the West Side Rooters Social Club, which was founded in the wonderful old year of 1908, the significance of which I need not explain here, hopefully. 
I remember watching Ken Burns' Baseball and in the turn of the century chapter, it described the exploits of the Boston Rooters - think it was for the Braves, rather than the Red Sox - but whatever.  It was an organized troop of the so-called civic leaders of the day - businessmen and judges and such- who would go to all the games, home AND away, arrive at the parks en masse, start organized cheers, drink, raise hell, intimidate the fans from the other teams, etc.  I suspect the same sort of thing went on with the West Side Rooters (in 1908 the Cubs played at West Side Park), because the Cubs' owner at the time ordered them disbanded at the end of the year, for "his own reasons".
Now we had the Bleacher Bums, of course.  I think the Bums occurred more or less organically, just a bunch of lunch-pail guys who decided it was more acceptable to drink Together rather than Alone.  And perhaps one or two of them may have had some recollection of the 1908 Rooters, who seemed to have more in common with the Boston outfit - guys in suits, so-called 'gentlemen' types, who would shout nonsense chants like "OOF WAH" and "Tinker's the Boy", which may or may not earn you some funny stares on the north side these days.  Depends on how many blocks east of Wrigley you are standing at, I suppose. 
I consider myself to be a pretty fair Cubs historian, but I don't recall reading anything about the West Side Rooters, but when I get home tonight, I can hit the Basement Library again to see if they were mentioned.
Anyway, Grant DePorter and the guys at Harry's dug it out, and have started a pretty nice deal - join the new Rooters, wear your button to one of their places during the Cubs games, and get your own pint glass with specially priced Bud products.  Decent.
Anyway, next Friday, the Rooters are having their very own Tally-Ho Parade.  A double decker bus, containing Ernie Banks and assorted random rooters playing brass instruments will load up in the Loop, and proceed down to Harry's new place (formerly Hi-Tops) for a pre-game party.
And guess who has a seat on the bus?
For sure, I will let you all know how it goes.  OOF WAH!
Maybe its your favorite part of a ballgame at Wrigley Field, maybe you've become, like myself, totally disgusted at times once the seventh inning stretch rolls around.  Y'all are going to have to give me this indulgence today so I can advance my agenda.
It was over ten years ago that Harry Caray died, and in the wake of his passing, an understandably stunned Cubs front office made the decision to "honor" him by permitting "celebrities" with ties to the Cubs to be "guest conductors" of the seventh inning stretch, the singing of "Take Me Out..."
Like most of what John "Midas" McDonough has touched in his life, it turned to gold.  In probably its ultimate low point, Coach Mike Ditka ran up the stairs to the pressbox, and while huffing and puffing and probably blowing above 0.08 on the breathalyzer, he set the all time land-speed record for the song.  Of course, in THIS particular mouth-breathing, knuckle-dragging hick town, anything Da Coaaaacch does is wonderful and santicfied, and thus cemented the Guest Conductor status forevermore.  So what was meant to be a tribute is now entering its eleventh year.
And, I gotta tell you all, it has sucked for a long time, and compared to the exuberance of the post-game celebrations lately, it is lame, tired, and as forced as a Britney Spears intervention.  This year in particular, if you care to relive it via Len and Bob's blog, we have had some real winners. 
For every Gracie and Sut appearence, we have had to sit through: the pouty and disinterested Pete Wentz-Simpson; the tastee but hugely untalented Julianne Hough; Dodger-for-Life Tommy Lasorda; Tim Meadows (WHO?); Simon LeBon??  Tom Arnold???  The Chicago Sun, what?  James VanDerBeek?  What, wasn't Shia LeBeouf available?  And my personal, all time favorite, the spoiled, pampered, entitled Addison Driscoll football team, the very same role models who drew an unsportsmanlike conduct penalty 20 minutes BEFORE kickoff against my school in the state semis.  Asshole dungeating herpes-sores...
Anyway, there is NOTHING more uncomfortable to have to sit through than the "interviews" they do before the stretch (on the radio side) and after the stretch on the tv side.  The "visit" with Tim Meadows was as awkward and painful as an ex-wife dragging her chewed-off fingernails against an old slate blackboard.
On the other hand...
On April 21st, they got it right, the perfect balance of tribute, celebration and mushmouthed senility that Harry himself embraced for the nearly 20 years he manned the booth.  Think about it for a second - WHO is the Biggest Cubs Fan in the World?  Even someone like myself must defer to superior Cubosity.  Someone who, doubtless, will end up paying the ultimate price someday while in the booth, probably after another bonehead play by Ronny Cedeno. 
One man should be the standard bearer.  The tributes to Harry will live on forever, but it is time to anoit Ron Santo as the keeper of the 7th Inning key.  His version of "Ballgame" is just as magical and wonderful as Harry's was, in his own style, and instead of this parade of mopes with the most tenuous of "Cubs ties", let the man who really Bleeds Cubs Blue carry on the tradition.
I am announcing right here and now the formation of a petition that you all can sign and I will then present some how, some way, to Cubs Management to install once and for all, Ron Santo as Permanent Conductor.  I must thank my wife for the idea, for we both share this sentiment. 
Once I get this formed, come right back here to Goatriders for more information on how YOU can make your voice heard!