Series Preview: Cardinals at Cubs; Playoff and Division Clinching Spectacular
Remember when the Cardinals had a stranglehold on the NL Central?  It wasn't all that long ago.  Since the 2000 season, the Cardinals have been playoff bound 6 times, including once when they won the fricking World Series.
I hate to give them credit, but the Cubs have been playoff bound like, 6 times since Truman was in office.*  Those are some pretty heavy figures there.  Serious props must go to St. Louis, who, for the past couple of seasons, have been second fiddle to the first-place Chicago Cubs.  Hell, let's be fair.  Even when St. Louis was winning, they were still less popular than the Chicago Cubs, although they will always be first in the hearts of the mullet wearing mid-west rednecks out there.
(*Guh.  Hate the Tribune.  Hate P.K. Wrigley.  Embarrassing.)
But, you know, the important thing is that the Cubs are very likely to clinch their second consecutive division title while the Cardinals are in town.  That's kind of cool.  Cooler still - St. Louis is headed toward a 4th place finish.  It must sting, those salty tears.
Anyway, let's take a gander at the matchups.
Friday, September 19th - Carlos ZambraNo-hitter (14-5, 3.41 ERA) vs. Adam Wainwright (9-3, 3.20 ERA)
In his last start against - of all teams - the Pittsburgh Pirates, Adam Wainwright went 4 innings, surrendered 6 earned runs, and cried into a Nike brand bath towel.  Carlos Zambrano did ... oh, just a little bit better than that.
Here's what I've learned about The Big Moose: every little arm scare we've seen this year, and in past years, stems from mechanical issues.  Carlos, the big lug that he is, sometimes fails to use his legs the way he should.  So, he uses his arm, his shoulder, his back, his most vulgar Spanish sayings, and whatever else he can think of to bring the heat.  Except it doesn't work, and Cub fans sweat bullets over a guy tossing 91 MPH fastballs instead of 98 MPH'ers.  Hopefully, the no-hitter taught him his lesson.  If Carlos keeps his mechanics sound, he will dominate the Cardinals again.
Saturday, September 20th - Theodore Roosevelt Lilly (15-9, 4.13 ERA) vs. Joel Piniero (6-6, 5.24 ERA)
If only.  If only.  If only we could pretend that the first 4 games of the season never happened to Ted Lilly.  If only we could subtract every game he pitched against the Reds.  Do you know what would happen if we could?  The Cubs #4 playoff pitcher would have an ERA in the neighborhood of 3.24.  What we do have, regardless, is a pitcher who's won 30 games in his first 2 years as a Cub.  ERA be damned, I'll take it!
His opponent is Joel Piniero, a 29-year-old who's half a decade removed from his last good season.  Piniero has avoided the potent Cub offense all year long and he already has an ERA of 5.24.  Good luck, buddy.
Sunday, September 21st - Ryan Clownsevelt Dempster (16-6, 3.02 ERA) vs. Braden Looper (12-13, 4.06 ERA)
Dempster has done pretty much everything possible to ensure himself a lucrative contract this off season, short of punching out Albert Pujols in a game.  But don't worry, there's still time for that.  At this point, it remains a mystery as to whether or not Hendry will make much of an effort to pursue this surprise All Star, but one thing we know for certain is that Jim Hendry has yet to lose a free agent Cub who he wanted to keep.  Remember all those bullets we sweated over Aramis Ramirez and Carlos Zambrano?  Remember how he kept them in Chicago for less money than what they would have made elsewhere?
Braden Looper has been a thorn in the side of the Cubs ever since St. Louis converted him to Starterism.  (It's like Judaism, but without all the laws.)  However, despite his uber-impressive 2.37 ERA this year against them, Looper has yet to win a game against the Cubs.  May his streak of failure continue.
Predictions: I have a pretty good feeling that the Cubs, on a gust of momentum, will blow right by the Cardinals and into NL Central Championship Clinching Goodness.  Pity St. Louis, a team with expectations as big as the unnaturally large muscles on Albert Pujols.  Why, one would suspect that their second consecutive year of playing crappy baseball might even be enough to drive their manager to drink.  (Cue photoshop)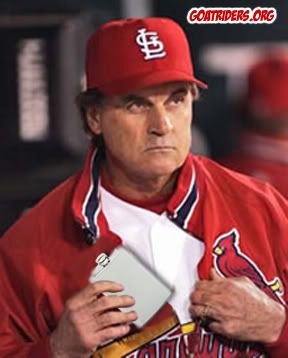 ...naaaah.  Low blow.