Series Preview: Rockies vs. Cubs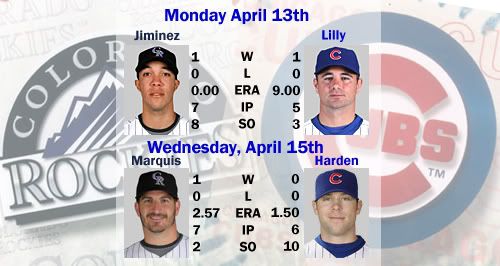 Let me see if I've got this straight. The Cubs are opening their season at Wrigley Field against the Rockies in the midst of a torrential downpour. Unfortunately, the Cubs don't have an open date to make up the game with Colorado, so they're playing in the rain.
Except the Cubs aren't scheduled to play tomorrow. Go figure.
Anyway, let's take a quick look at this series:
Game One
Ted Lilly vs. Ubaldo Jiminez
In his first game of the season, Theodore Roosevelt Lilly intermixed an effective outing with a bout of batting practice. The result is that he either looked very good or he looked behind him in order to watch the ball sail out of the park. He served 4 homeruns in his first game of the year, and he is surely hoping to make up for it with a solid performance today.
His opponent, Ubaldo Jiminez is one tough S.O.B. You can tell becuase he's survived life with the name Ubaldo. He's also entering his second full sason as a Rockies starter - last year he threw just under 200 innings and went 12-12 with an ERA of 3.99. That's just about as good as it gets in Colorado. However he did throw 7 innings of shutout ball in his first game of the season, so he looks like he means business.
Game Two
Rich Harden vs. Jason Marquis
Only in baseball can one pitcher give up 4 homeruns in a single game and walk away with a 9.00 ERA and the win, while another pitcher can strike out 10 in 6 innings of work and walk away with a no-decision. Chances are, Harden will not make every start this season. But it's comforting to know that he's still an ass kicker when he makes them at all.
His opponent is the legendary ex Cub named Jason Marquis, whose nickname while pitching for the North Side was de Suck. He won his first game as a Rockie last week, but he still sucks. If baseball is fair, then this game will be a no-brainer.
Conclusions
Crap, I dunno. Either the Cubs win or they lose. Or they split. but having won 4 of their first 6 while on the road, we can only hope that the team's success will continue now that they're home.
But one bit of sour news - although Geovany Soto pinch hit last night, he's still not in the starting lineup today. That means the Cubs are down two starters, although Koyie Hill and Reed Johnson both appear extremely capable of picking up the slack when necessary.
Tip for Purchasing Tickets Online
Most online brokers and marketplaces in the secondary market charge a service fee during checkout regardless of what you are purchasing, such as Chicago Cubs tickets or anything else. Typically you can walk through the first few steps of checkout to find out if there will be any additional charges.. From your friends at Neco.com, the home of transparent pricing.