Series Preview: Los Angeles Dodgers of Los Angeles at Chicago Cubs (May 25- May 27, 2010)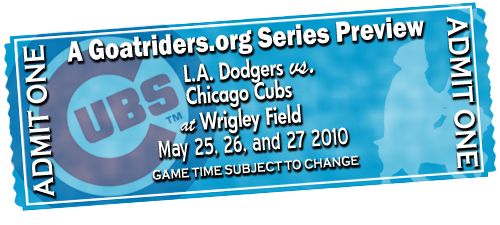 Overview
Don't look now, but the Cubs are coming off another series win. In fact, they've actually not lost any of the past three series. Much of this success can be attributed to the fact that the Cubs have done just enough to win games lately. The pitching continues to be pretty good and the offense has been showing occassional signs of life.
The Dodgers have been one of the most torrid teams in baseball right now. At one point an afterthought in the San Diego/San Francisco race to the top of the NL West, the Dodgers rattled off an 8 game winning streak and are 8-2 in their last ten. Momentum is definitely on the Dodgers side right now. After a much needed off day for both teams, the Dodgers head into Wrigley and try to improve their road record from 10-11.
Matchups
Tuesday, May 25, 2010- Clayton Kershaw (4-2, 3.23) vs. Ryan Dempster (2-4, 3.73)
Kershaw was (and the Dodgers continue to hope he is) the wunderkind that can anchor their starting rotation. Earlier in the season, Kershaw was all over the place and many speculated he couldn't control his emotions on the mound. Some of those critics have been quieted as of late. Kershaw has had a ridiculous month of May in which he has allowed only two runs over 22 1/3 innings since his catastrophic first start of the month (1 1/3, 7 runs). In that time he has also struck out 23 batters and added 3 wins to his record. Clayton has a fastball that sits mid-90s that is complemented by a hard 1-to-7 curve (mid-70s), a "plus" circle change and a slider. He has a great repeatable delivery and a good frame for it. The best way to get at Kershaw is to attack the pitches he throws early in the count, particularly early in the game. Opponents are batting .353 against Clayton in his first 15 pitches of the game, and .429 on the first pitch in the sequence.
Dempster has lost his last four starts and looks to get back on track tonight. He's been a victim of the big gopherball lately and needs to cut down in order to see a bit more success in the W column. On the month, Clownsevelt is 0-3 with a 5.00 ERA. Over his career, Dempster has had good success against the Dodgers, including two wins last year, so hopefully he keeps that pace.
Wednesday, May 26, 2010- Chad Billingsley (5-2, 3.66) vs. Tom Gorzelanny (2-4, 3.09)
Billingsley is the other reason the Dodgers have had success in the month of May. He has won his last three starts and has made it through at least seven innings in his past two starts. Billingsley experimented with adding some sink to his fastball last year and into this year with moderate success. He has since ditched that plan and gone back to being a four-seam fastball and curveball combination with great results as demonstrated by his 44:21 K:BB ratio.
Gorz took a ball off of his pitching hand in his last start and still made a fine play to get the out. The X-rays were negative, but the schedule allowed for Tommy to get an extra day of rest regardless. Gorz had a strong outing in that start against the Phils, going 6 2/3 innings of shutout ball and allowing only three hits.
Thursday, May 27, 2010- John Ely (3-1, 3.41) vs. Ted Lilly (1-4, 4.30)
Ely, the Homewood-Flossmoor native, was traded this offseason to the Dodgers along with Jon Link for the currently floundering Juan Pierre by the White Sox. Since he has been called up Ely has had nothing but success, winning his last three starts. Ely aggressively attacks the strike zone and is seemingly fearless in doing so. Much like our own Carlos Silva, Ely issues few walks. To date, he has only issued a walk. Ely features a high-80s fastball with a changeup that Baseball America referred to in 2009 as a "plus-plus" pitch. While he won't blow it by batters, the dominance of his change has allowed him to strike out 28 batters in only 31 2/3 innings and also will induce a lot of ground balls.
Lilly is coming off a good start against the offensively talented Rangers this weekend where he went 6 2/3 innings and allowed only two runs. The Cubs, however, only managed to score one run so Lilly got tagged with the loss. It's looking like the more Lilly pitches this season, the more comfortable he looks on the mound. Hopefully he can keep up the momentum from the Rangers game and pitch a gem on Thursday for a much deserved win.
Conclusion
Starting pitching is the name of the game for this series. Whichever team gets the most out of their starting staff will likely win the serie. Despite the fact that our de facto "ace" so far isn't going in this series, I can see the Cubs winning two of three with Dempster and Lilly getting a "W." Either way, runs are going to be at a premium in this series for both teams.
Shop for discount sports tickets -- including White Sox tickets online -- at Coast to Coast Tickets!