Series Preview: Chicago Cubs at The Texas Rangers of Arlington (May 21-23)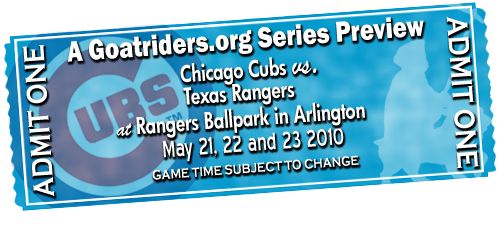 Overview
The Cubs travel to Arlington to open up Interleague play and face a red-hot Rangers team. The Rangers have always been known as an "offense first" squad and this year is no different. The Rangers are 3rd in the AL in terms of batting average and 5th in OBP. However, unlike previous years, the pitching staff of the club has been very serviceable. The club has the 6th best ERA in the AL and ranks second in strikeouts. Much of this success is due to the new and improved Colby Lewis, the excellent start to the season of CJ Wilson, and the recent callup of Derek Holland. The Cubs will get to face all three in this upcoming series.
The Matchups
Friday, May 21, 2010- Colby Lewis (3-2, 3.68) vs. Ted Lilly (1-3, 4.65)
Lewis has been a big surprise story for the Rangers. After a terrible showing the first time around in the MLB, Lewis returned from Japan with the goal of making good on his once "top prospect" status. From 2002 to 2007 Lewis compiled a 6.71 ERA over 217.1 major league innings, walking 124 batters. He then went to Japan and became an immediate success. His success was not a coincidence. During that time he altered his delivery, added a cutter, and bought into the philosophy of pounding the strike zone. He has good velocity and what some refer to as an "unholy breaking pitch." So far this has meant success as he has a 2.57 SO/BB ratio and a mid 3's ERA pitching in the AL. However, he has lost his past two decisions after starting 3-0 on the season, so hopefully the Cubs have caught him at a good time.
Lilly notched a quality start in his last outing against the Pirates, allowing 3 ER over seven innings. He has now gone seven innings in back to back starts, which is promising considering he is still sort of recovering from knee surgery. Hopefully Lilly can increase the strikeouts against a hungry Rangers lineup and get a win.
Saturday, May 22, 2010- Derek Holland (2-0, 2.38) vs. Randy Wells (3-2, 4.13)
Holland is one of those "came out of nowhere" prospects for the Rangers system. He was drafted in the 25th round in 2006 with out much hype. At the time he threw a 90-92 MPH fastball and had a nice repeatable delivery, so there was good potential for him. In 2008 he finished 10th overall in strikeouts for the minors with 157. Much of this sucess can be credited to the development of his fastball. During 2008, his fastball started middle at 93-96 with a sinking motion, sometimes touching up to 98 MPH. He compliments this fastball with a changeup and a slider that both come in at low 80s. So far he has been able to parlay his stuff into success at the big league level, winning his first two starts.
Wells should be 4-2 after his outing this past week against the Rockies where he went 6 2/3 innings of one run ball. Hopefully we can see more of the same out of Wells and get him a well-deserved win.
Sunday, May 22, 2010- CJ Wilson (3-1, 2.55) vs. Carlos Silva (5-0, 3.35)
This is a matchup of unlikely aces. Wilson has spent most of his career in the bullpen as a closer or setup man, but with Feliz and Frank Francisco holding down the setup and closer roles in Texas, Wilson needed a new gig. So far it has been smooth sailing until his last outing. Wilson only lasted 4 1/3 innings against the Angels after giving up seven runs. His homerless streak ended when Torii Hunter took him deep.
Silva is 5-0 and no one really knows what to do. I have to admit, he's been pretty impressive in his consistency and can be maddening for hitters when he stays ahead in counts. I haven't seen anything to the contrary, so I expect another quality start out of Carlos... even if it continues to defy logic.
Conclusion
This is going to be a rough matchup, but if the Cubs can continue to show life with their bats and John Grabow doesn't get put into a game, I can see the Cubs taking 2 out of 3.
Shop for discount sports tickets at Coast to Coast Tickets, your reliable Chicago Cubs ticket broker!