The morning after
As Gunsnascar pointed out in the Shout Box, yesterday's Thanksgiving Euphoria was esclated to an almost-dangerous level with the rumors that the Padres had found a third team in the Peavy-to-Cubs trade talks.  I'm not sure who this mystery team is; maybe they play in Japan or something.
Anyway, now that we've woken up to a brand new day, the turkey high has crashed down and it turns out that the rumors just might not be accurrate.
Look, we like him - especially when he links us, because he's insanely popular - but there is a reason his nickname is Crazy MLB Trade Rumor Guy.  And that reason is because most of his trade rumors are just a bit on the side of crazy, not that it's his fault.  He just finds 'em and posts 'em.
I was about to write a long and complicated paragraph about why the Peavy Trade isn't going to happen, but I thought instead that I'd just create a snazzy little graphic for you: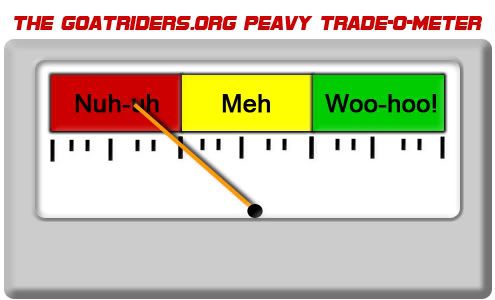 Don't get me wrong, I'm all for it, but with salary concerns and many, many starting pitchers, the Cubs just don't need Peavy right now.  Although, if Chicago is able to deal Marquis ... and maybe swing Lilly for a younger lefty like I speculated to great scorn ... then maybe, just maybe ...
Naaaah.  The euphoria is gone; let the hang-over commence!