Series Preview: Cubs vs White Sox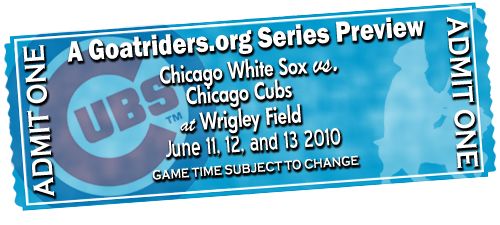 Here it is. The Crosstown classic. Yippee. Personally, I haven't always harbored the anti-White Sox feelings that so many have here so this is basically just another series for me.
Game 1: Randy Wells vs Jake Peavy
Wells needs to get back on track but he's been generally very good this year so I am not worried. Peavy has been seriously inconsistent and usually on the bad side. He, of course, was rumoured to be coming to our side of town for several decades (I mean months) before last year. Let's hope Wells can keep the White Sox in check and the Cubs bats can come to life against their "almost" pitcher.
Game 2: Carlos Silva vs Mark Buehrle
The Silva train continues! Even before Silva's resurgence, Buerhrle's inability to strike hitters out would have made this an interesting game. Buerhle's ERA since his perfect game last year is in the high 5's. I wonder if this wouldn't be a good day to try Colvin vs a lefty.
Game 3: Gavin Floyd vs Ted Lilly
Floyd has a very ugly ERA. Lilly is pitching (IMO) to get the Cubs a couple of decent prospects. Floyd is really much better than his ERA shows and has a huge BABIP that is out of whack. His peripherals suggest that he is almost the same pitcher he has been since going over to the White Sox. Often when pitchers like that finally "figure it out", it's against the Cubs. Sigh...
Series Previews sponsored by MLB playoff ticket broker CTC Tickets, where you can find discount Chicago Cubs baseball tickets