Oops! The Cubs suck. (Game Recap: Cubs 2, Pirates 4)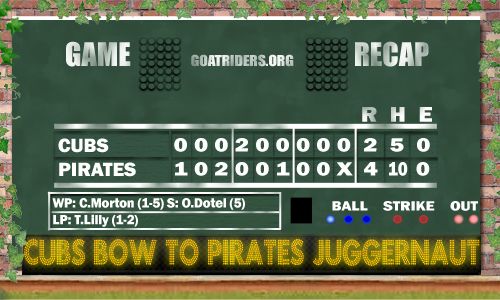 You know who's not a very good pitcher? Charlie Morton.
Maybe, going into last night's game, Charlie was saying to himself:
"Listen. You are garbage, self. But so is your team. So you know you're gonna be out there for at least five innings. Let's give these guys a bunch of crap to hit, not walk anybody, and hope they suck enough where they don't rally or anything. I'll give them all the singles they want, but no extra-base hits, and no walks."
And it worked!
The Cubs collected neither walk nor extra-base hit in this piece of crap game.
Awards for suckitude go to Ryan Theriot and Kosuke Fukudome for failing to get on base ever, and to everyone on the team for sucking generally.
In all honesty, the Cubs aren't this bad. But they're also really not that much better, either.
Let's have your predictions for number of games this team will win this season in the comments section, please.