Gorzo gets a win. (5/3 Game Recap: Cubs 10, Diamondbacks 5)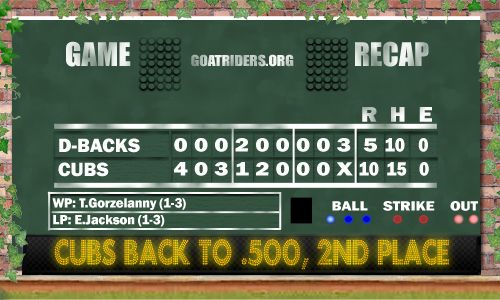 The most valuable player for the Cubs in Sunday's game was almost certainly Edwin Jackson. That young kid has a good heater, but apparently not much else.
Regardless, Tom Gorzelanny should get some credit for yet again putting himself and his team in position for a win. Nice enough for him, he got the decision this time.
It's Gorzo's first win of the year, which must be why ESPN said something like, "Finally he's doing well," when they went over the highlights on him. Of course, you and I know that this is Tom's third quality start of the year, and he was one out away from a fourth against the Mets on 4/22, AND that his only other start was the one where he took a liner off his shoulder. So, thank you very much, Tom's been doing quite well all season.
But here's a question for you: Will it continue?
I'm sure the media is really enjoying all this Carlos Zambrano drama (and when I say I'm sure, I mean I'm POSITIVE), but neither Gorzelanny nor Carlos Silva will keep his ERA under 3 all year. When the wind starts to blow out more and a few extra home runs leave the park, I think Lou might change his mind about the value of keeping Z in the 'pen.
But even with a few more home runs allowed, Tom might still figure to be rotation-worthy. Fangraphs likes him enough to predict that he'll finish the year with nine wins and a 3.91 ERA in 28 starts. I buy that, mostly because I'm liking Gorzelanny's ability to get strikeouts -- like the 10 he got yesterday, a new career high.
Speaking of yesterday's game, way to go Alfonso Soriano, who had two home runs and a double. The guy is looking pretty good right now, but allow me to quote MSD from the Shout Box:
"I hate to talk negative but soriano will carry the cubs now and then
bringem down later lol"
This feels mostly correct. In fact, even last year, Soriano posted two
months better than his April from this year OPS-wise (he was at .900 in
April '10, .955 in April '09, and .992 in July '09). For him, it's not a
question of getting hot; it's a matter of staying better-than-tepid. Or
something.
But for now: Cubs win! Good stuff.