Game & Series Recap: Cubs 3, Twins 2 (1 game to 2)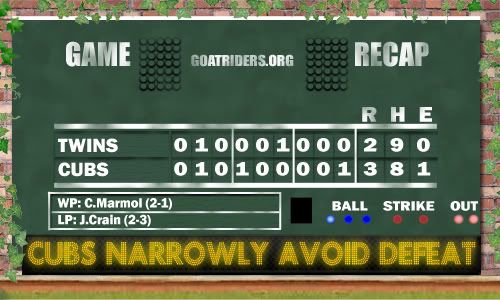 The Cubs have officially come under the jurisdiction of Murtaugh's Law -- we are too old for this shit.
On paper, these guys are outstanding. Their catcher is a damned-near .300 hitter capable of hitting more than 20 bombs. They've got a first baseman capable of batting .290 and hitting 20 homers. Their lefty second baseman is scrappy with surprising power for his size. Their shortstop gets on base at a terrific clip and can steal 30. Their third baseman can put up MVP caliber numbers. So can their left fielder, who is easily capable of hitting 40 homeruns if he stays healthy. Their center fielder may be a better than .300 hitter, and their right fielder led the AL in OPS last year.
Except Soto is a shell, Lee and Fontenot have struggled, Theriot is hit and miss, Ramirez is on the DL, Soriano has suffered from a month long slump, Fukudome is the cream puff of the outfield (empty calories, leaves you unfulfilled), and Bradley is a first-year bust.
With the exception of Theriot and his surprising power numbers nobody is hitting the way we thought they could. Nobody (except Theriot). Much as the '08 team surprised us with a Fukudome-excepted offensive bounty, the '09 team are the pantie-wastes of the National League. Even yesterday's win was disappointing -- and it was a win. Against three pitchers who began the day with a combined ERA of 5.56 the Cubs managed to score 3 runs. How the hell does that happen every single game?
Jim Hendry responded to the team's offensive druthers by firing Gerald Perry. I would have preferred that he trade for another, better bat. But for a team that will often times hold onto a coach until the bitter end it's a sign of progress. It tells us that like us, like Murtaugh, they are not having any of this shit.
Three-or-so weeks ago I wrote an article in which I explained what it would take for me to raise the white flag on the season. I'll remind you: 10 games under .500, 10 games out of a playoff spot. The Cubs are neither of these things. But they are a .500 team with no life in their veins, thanking the lord for the one bit of luck he gave them: a weak NL Central. This division will probably go to the first team to win 90 and Chicago remains only 2.5 games out.
Still, I don't need to see them drop to 10 games under .500 -- or 10 games out of a playoff spot -- to know that this team has me feeling sick to my stomach. As a stupid, average fan I have no idea how to fix what's broken. I just know that it's not right.
Current Record: 30-30
Position in the NL Central: 4th place, 2.5 games out
Best Possible Record: 132-30
Worst Possible Record: 30-132
Record needed to win 110: 80-22
On Pace For: 81-81