Playoff Matchups - A nifty graphic, and then some thoughts
Goat Reader KCassidy speculated in the shout box recently as to what the playoff match-ups might look like.  A while back, I did a very pre-emptive graphic to convey how strong the Cubs rotation is.  I've updated it for the playoffs.  Commentary after the rather large image: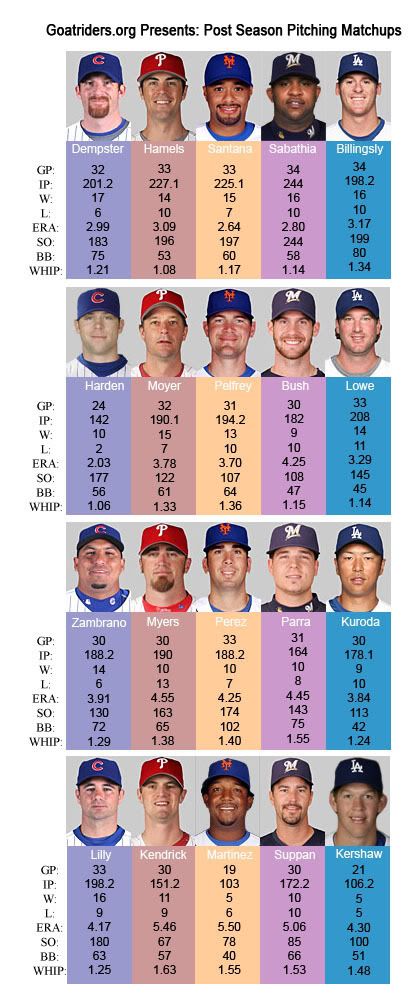 So. First and foremost, let's praise Jim Hendry for assembling the deepest starting rotation by far of any team in the NL this year.  Now, for Milwaukee, I left off Ben Sheets as he may or may not pitch again this year.  As for the other teams, let's break it down...
Dempster vs. the other team aces is not an easy win for the Cubs, and especially with Santana and Sabathia, having to win 3 games in a 5 game series in which both might pitch twice will be no easy task.
One other thing to consider - some of these teams may go with 3-man rotations.  That may help them or maybe it'll actually hurt them.  Regardless, the Cubs are so much deeper that it's ridiculous.  I'm sure Colin will do the splits a little later, but while the Battle of Aces is no sure thing, I'd take Harden, Zambrano, and Lilly over any of their opponents.
Also, if I have time, I might also do a comparative split with the Cubs pitchers and the AL playoff starters.
And since we've been low on reader comments the last few days, I'll finish by saying this: please feel free to express your opinion about all of these matchups.  Did I get some wrong?  Did I leave a pitcher off that list who should have been on it?  Will Dempster's home field dominance give him an advantage, as he'll be pitching at home for perhaps the entirety of the playoffs?