Why We Cheer - Glenallen Hill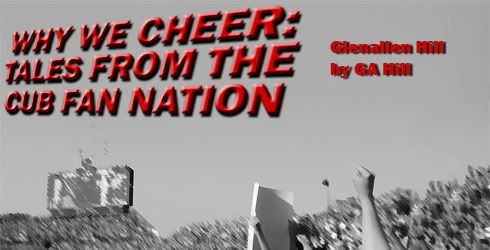 Alright, Glenallen Hill is not the reason I cheer for the Cubs.  I cheer for the Cubs for many, many reasons just like everyone else--WGN force-feeding me Cub baseball, Wrigley Field, Ryno, Gracie, etc. etc. etc.
That said, Cub fans are a different breed in that they embrace the non-superstars almost as much.  For every Andre Dawson there is a Bobby Denier that we hold close to our little Cubbie hearts.  I mean, after this season, does anyone really believe that Mike Fontenot is going to have to buy a beer in Chicago ever again?  It's a unique aspect that is often overlooked by the sports media who is too interested in talking about Steve Bartman and goats and whatnot.
For me--and my screen name namesake--one of those players is Glenallen Hill.
There are several reasons for my strage infatuation with GA.  The obvious one is that he hit home runs a very, very long way.  But the other reasons were, well, he was just funny. The way his legs didn't move when he swung a bat, the way he basically waddled towards pop flys in the outfield (he did play in the outfield from time-to-time)--he was just a unique player, possessing the kind of idiosyncrasies that only ballplayers can possess and be successful in their sport.  One of the many reasons baseball is so unique.  And, of course, he was part of that amazing (now tarnished) season of 1998.
All that said, there was a story I was told at Wrigley one day that officially made him one of my all-time favorites.  I saw a guy in his (I'm guessing) 50's wearing a Glenallen Hill authentic jersey.  Mind you, this was in 2003.  GA had been long gone.  My mind was swimming with different reasons the guy had a Glenallen Hill jersey on, and it was well before the game started, so I thought I'd just go talk to him.
Turns out he was sitting with his son (who was roughly my age), and they told me that GA was indeed one of their favorite players, for many of the reasons he was one of mine.  However, they were telling me that they had a special nickname for him because of a great story they had heard from one of the son's best friends.  They called him M.F. Hill.
"Why 'M.F.?", I asked.
Then the dad--who looked like he easily could have taken the train to the park after teaching an econ class at the University of Chicago--replied:  "because he is such a mother f***er."
They proceeded to tell me that the son's buddy was a journalism student at UC, and was given the opportunity to interview Glenallen.  He said it was going about as well as you would think--short, snappy answers; no depth, just generally GA wanting to be doing anything in the world other than this interview.  So, as a last grasp at getting something good out of him, the buddy asked GA:
"OK, Glenallen, last question:  describe yourself in three words."
GA:  "Scary.  Black.  Man."
Needless to say, the dad, son, and I were absolutely rolling.  It was a beautiful day at Wrigley Field, not a cloud in sight, cold beers, and telling great baseball stories.
Ultimately, that's probably the point.  It's not about Wrigley, it's not about Ryno, it's not about curses, WGN, 100 years, or any of that crap.  It's about a fanbase that has a true passion for baseball and the strongest sense of community among our fellow fans.  It's about sitting in the sun, embracing the players on the field and cheering as loudly as possible, then living to tell stories about it with total strangers that for brief moments become long-lost friends.
People speak of the poor, down-trodden Cub fan like we're some pity case.  They always ask how you can handle all the losing and cheering for a team that never wins.
With moments like that one in Wrigley, the answers to those questions become pretty easy.