Alfonso Soriano - the Modern Day Mr. Cub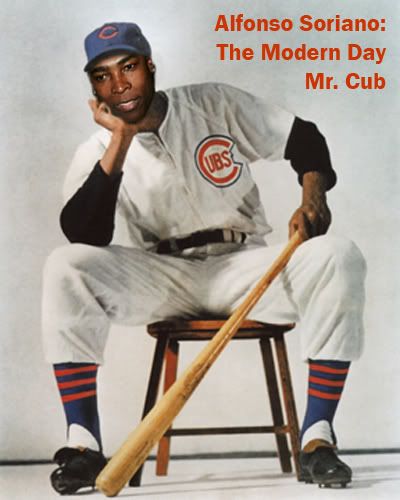 Helpful Hint: Run Your Mouse Over the Picture
A couple of Novembers ago, I was in Pennsylvania with my brother.  We were at a banquet celebrating the conclusion of a season of rodeo - I am nothing if not multi-faceted - and on the way home, while tuned into sports radio and chattering about who-knows-what, we heard "...signed Alfonso Soriano to an 8 year deal worth a reported 136 million..."
The only problem was that we didn't catch the name of the team that signed him.  I immediately discounted the Cubs.  There was just no way the Cubs would drop that kind of coin on a guy, it was ridiculous to suggest otherwise.  Yet, Karl insisted that he heard the name "Cubs" in that report.  I hijacked his cell phone and made an incredibly expensive, long distance call to Canada, where I asked my fiancee to scour the online news sources to see what was being reported.  She found nothing.  It would be roughly 30 minutes before everything was confirmed, and that was when I knew that, for perhaps the first time in my adult life, the Cubs were serious about winning.
Alfonso Soriano came to Chicago as the most expensive free agent they have ever signed, and as the cornerstone of a resurgent offense that will soon have taken them to their first back-to-back post season appearances in about 100 years.  He also came with baggage.  Let's not forget that this was a guy who almost refused to play for the Washington Nationals when they wanted to move him from second base to left field.  This was a guy who hated batting anywhere but leadoff, despite the fact that he draws minimal walks while hitting prodigious amounts of homeruns.  This was a guy who threatened to be a headcase on a team only a few years removed from the biggest headcase ever.
It's been true that in his first two years with the team, Soriano has continued to worry some of us, and he's displayed behaviors that, on losing teams, would probably have turned many of the most caustic Cub fans against him.  He was moved to center field his first year in Chicago, but within a month the experiment was abandoned and the put him back in left.  He continues to hit way too many homeruns to be a leadoff hitter, but Lou Piniella insists on leaving him there.  He's been injured in base-running plays that could best be described as "bone-headed."  And, worst of all, the most common example of his flakiness, Soriano insists on doing a ridiculous little one-handed hop-catch on almost every routine pop fly that comes his way in left field.  Said hop has also been responsible for time on the disabled list earlier this year, although Alfonso insists that his calf was a ticking time-bomb and he would've been hurt regardless.
And yet, while his antics have annoyed some, Alfonso Soriano's behavior and attitude have elicited few complains from the Cubs clubhouse.  "He's one of our leaders," said Lou Piniella on August 14th of this year. Soriano has been noted for his positive attitude, his constant smile, and his enthusiasm on the field. His constant smile and pleasant demeanor mixed with his deadly offensive ability has to elicit comparisons with another Cub of a bygone era - Ernie Banks.  Is it possible that Soriano has quietly accomplished what Sammy Sosa loudly failed to do?  Is Soriano the positive clubhouse force that the Cubs had lacked for years?
Soriano certainly brings a number of positives to his game.  Despite his defensive oddities, he has one of the best arms in the outfield.  In 2007, Soriano led all left fielders with 19 assists - 6 more than the second best tally, despite having played in 20 fewer games.  So far in 2008, only 3 left fielders in all of baseball have more assists than Soriano's 9, and the major league leader Pat Burrell's 12 total assists come in 46 more games played.  The Fonz may never win a Golden Glove, but he certainly has a Golden Arm.
Equally important to the success of the Cubs has been his bat.  In 101 games played, Soriano has 29 homeruns, 72 RBI, and is batting .289 with a .350 OBP.  He's also stolen 19 bases in 21 tries.  Without Soriano in the lineup, the Cubs are only 2 games over .500 at 25-23.  With him, the team is 30 games over .500 at 66-36.  It can't be entirely coincidental.
Soriano appears to be one of the few players whose numerous problems are easily surpassed by his positives.  Any criticism that can be levied against him can be retorted.  He is only 2 years into an epic 8 year deal, but he has so far been worth every penny, despite his freak injuries, in spite of his little oddities, and that fact alone makes him special.  The Cubs have spent considerable money on Soriano.  He has missed considerable play time.  And yet, Jim Hendry and Lou Piniella have to feel that he's been worth every penny so far.  He's so special when he's healthy that we can put up with the stretches when he's not.  He's the modern day Mr. Cub.  His mere presence elevates the team, his demeanor improves the atmosphere of the clubhouse, and his raw ability and talent turn losses into wins.  The Cubs are the best team in baseball right now because they are well-rounded, but they would be run-of-the-mill without this man.
It remains to be seen if, six seasons from now, Soriano will be pulling his weight on the team.  Who knows, he may not even be a Cub when his contract ends.  But what is true is this - on a team that hasn't won anything since before the Titanic sank, if Soriano helps the Cubs win now, his burden of a contract will absolutely be worth it later, even if he himself can no longer deliver.  It sounds ridiculous, but it's true.