Game Recap: Brewers 6, Cubs 2; The One that Got Away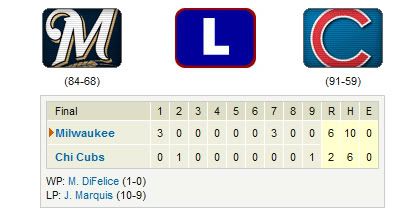 It was a perfect opportunity for the Cubs to bring their magic number to 2.  Ben Sheets, Brewers Ace 2.0 leaves the game - and possibly ends his season - in the 2nd inning.  This leaves the Cubs in the "competent" hands of a mediocre Brewers bullpen - 7 different Milwaukee relievers were used last night, and last I checked, they only have 2 or 3 good relievers on their team.
In other words, the Cubs should have demolished them, right?  Wrong.  Jason Marquis was on the hill.
For you new readers, Jason Marquis has a number of nicknames on this blog.  Mostly we just call him the Marquis de Suck, but another appropriate - if not less funny - nickname might be Hendry's Folly.  Although the Cubs already look built to compete again next season, Jim will have a few moves to make before '09 rolls around.  For example, will he roll the dice and bring back Dempster?  And if he brings back Dempster, will Samardzija get a shot at starting?  And if the Notre Dame phenom is going to get his shot, then who does he replace in the rotation?  The answer, obviously, is Jason Marquis, the weakest link.
Last night, Hendry's Folly* made it easy for the Brewers by allowing a 3-run first inning.  Admittedly, he buckled down after that and pitched into the 6th without allowing another run, but the damage was already done.  Marquis exited in the 6th, and In the 7th, his white flag replacement Angel Guzman saw fit to pitch in-game batting practice to Milwaukee.
(*still a year remaining on that albatross of a contract, hurray)
Even had the Cubs offense taken advantage of the early departure of Ben Sheets, it may have been a little much asking for them to overcome the 6 runs scored by the Brewers.  However, the only real offensive production they had last night came from an Aramis Ramirez solo shot in the 2nd, and a Ryan Theriot ground-out RBI in the 9th.  The Cubs offense only managed 6 hits and 3 walks, but they will face a depleted Brewers pitching staff tonight, led by Dave Bush.  Bush is 9-10 with a 4.24 ERA, and he is currently 0-2 with an 8.23 ERA against the Cubs this year.
I'm sure we will all look forward to the Cubs finishing this thing sooner rather than later.  The offense needs to come alive tonight, and with Bush pitching and the Milwaukee pen worn out, it could get real ugly real fast.