My Big Z no-hit experience
Note from the Editor: I've actually uploaded the pictures so they're viewable on GROTA, and I've promoted the blog to the front page for the world to see.
I was driving home after classes on 43 South when my girlfriend called me to break the news: "My flight to Houston got cancelled from the Hurricane.  Looks like I don't get to see the Cubs down at Minute Maid this year."  You could tell she was pretty crushed about it but I tried to cheer her up with talks that maybe, just maybe, the series would be rescheduled somewhere nearby like St. Louis so we could still make a road trip to see it.
As a Chicago Suburbs resident transplanted to Milwaukee, I had been lucky enough to see another transplanted series the year before when the Indians and Angels came to town to hide under the roof of Miller Park from the snow.  It was a great time, and as a baseball fan in general, it is always nice to see baseball in any form sometimes.  However, I had no expectation that Miller Park was even in contention to be picked for an alternate, perhaps even "neutral" site for the Cubs/Astros series to take place.  My luck changed for the better on Saturday night when I found out the news: the series had been moved to Miller Park.  I couldn't have been more ecstatic when I heard the news (there may have been a possibility of terrible white boy dancing involved... I'll spare you the details and mental images).
I called my friend, John, a transplanted Houston native and law school classmante of mine, and we both arranged to get tickets and planned out our tailgate the next day.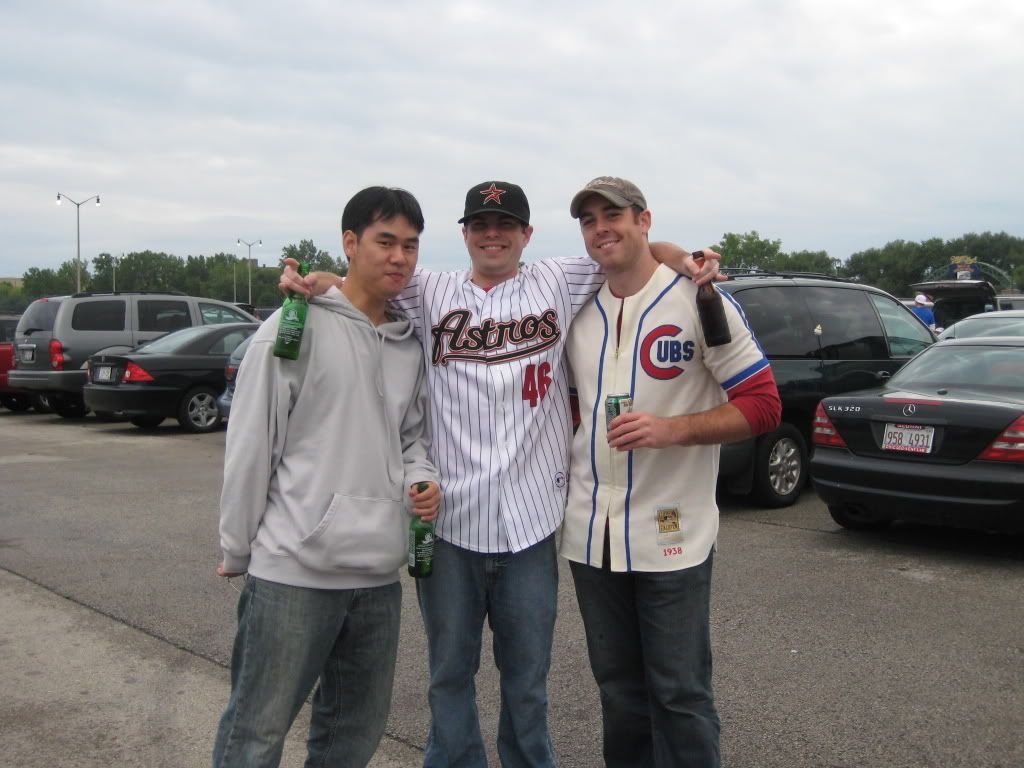 Image above: Mike, John, and I tailgating.
When we got inside the ballpark, my friend John wanted to go down to the dugout area and see if he could flag down JR Towles, a friend of his from high school (Towles was John's catcher in HS).  While we waited, we got to talk a bit with Ed Wade, who was getting ready for an interview.  He didn't seem too thrilled about the amount of cubs fans at the game.  (I also learned later that the Astros wore their alternate jerseys and stationed themselves in the visitors dugout as a form of "protest").
After the first pitch you all know what happened.  Soriano Homers.  Felt great.  I really thought that would be one of the big highlights of the game and at the end most of us would be talking about how much we enjoy him in the leadoff spot, even if it doesn't make sense, for that purpose alone.
Fourth Inning: I get up to pee in the mid 4.  Get back with one man on.  I ask the usher how Bourn got on and she tells me it was a walk.  I reply with, "Good, no hits."  I had no idea the foreshadowing that happened at that moment.  Runner erased a second later on a DP ball.
Bottom 5: Lee's height enables him to make a sick catch to end the inning.  Butterflies start.
Bottom 6: I just got quiet.  My jaw can only clench together.  After the final out my girlfriend looked over, looked at the scoreboard, and states "I'm going to leave you alone."
Bottom 8: I hear a girl seated behind me ask her boyfriend why he is acting "so weird."  He replies that he can't talk to her about it, he'll tell her later, when the game is over.  She sighs and pouts, not understanding what is going on.
Bottom 9:  The place is rocking.  I can't hear myself think.  I don't want to think, for fear of ruining the moment somehow.  Two ground outs.  One out left.  Full Count.  Flashbulbs.  Game.  I let out a gutteral yell that can only be described as primal and my fists are clenched to the point where you'd think I was trying to make the knuckles pop out.  The team mobs the field in a big blue blur.
My phone vibrated with a text message.  It was my Father.  "I had Holtzman's.  Now you have your own memory."
Everything fell into place in that moment.  In those awestruck moments, I couldn't help but think that the Cubs weren't simply a baseball team: they were a destined team.  I have never felt such electricity in the air at a game in my life.  I can only hope to have that feeling again sometime soon.  Maybe this time, come October, my father and I can share the moment that eluded him in the '69 season.
Without further adieu, I will share my pics (courtesy of my girlfriend and her camera)
The Final Pitch:
The Celebration:
The Flooding of the Field:
The Scoreboard:
Me screaming like an idiot:
Ben Sheets, Philanthropist
Hope you all enjoy the photos!  Sorry for the quality of some of them... some are a bit grainy.