Why We Cheer: How I Lost the 1989 Playoffs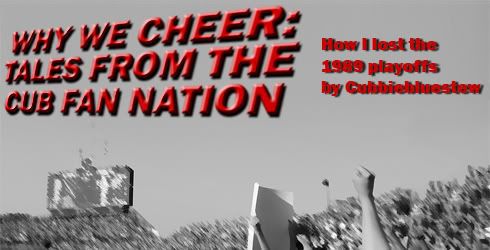 Editor's Note: Between now and, well, whenever, we will be running a series of stories written by various fans of the Cub Nation. This particular piece was crafted by a candidate for the ESPN series, known best as cubbiebluestew, who is responsible for the creation of the Cubs Coven.
As any baseball fan knows, Yom Kippur has played a part in baseball history. Yom Kippur is a solemn day. It is associated with sin and redemption. Even Jews who rarely attend synagogue feel a sense of obligation to do something to observe this day of fasting and repentance. The most famous example was Hank Greenberg, who although he was a very good baseball player, owed much of his fame to being Jewish. He was not particularly religious, yet he once famously refused to play in a World Series game that fell on Yom Kippur. Most other Jewish baseball players have not been so fortunate as to be on a team that was still playing in October. But occasionally sports writers will conjecture as to whether a Ken Holtzman would pitch if the occasion arose. (They didn't ask this while he was a Cub, of course.)
So we know that Yom Kippur plays a part in baseball history for some players, but what about the fans? I have to confess to my role in losing the 1989 playoff series for the Cubs. Yom Kippur is about guilt and sin. It is a sin to not observe Yom kippur with prayer and solemn contemplation. But I held tickets to the three playoff games in San Francisco between the Giants and the Cubs. The first two games of the potential 7 game series were in Chicago. The series came to San Francisco even at one game for each team. I have been a Cub fan since 1942. I listened to the 1945 World Series by running home from school to catch the last few innings. My family moved from Chicago to San Francisco in 1949, and I wasn't able to see the Cubs in person until the Giants moved from New York in 1959, the year I married Mrs Cubbiebluestew. We went to games at old Seals Stadium and then at Candlestick each time the Cubs came to town. Mrs. Cubbieblue is not a Cub fan, but she jumped at the chance to fly back to Chicago for the playoff series in 1984. Therefore, going to the playoff series in San Francisco in 1989 was a foregone conclusion. Or was it?
We didn't pay much attention to the fact that game number three was on Yom Kippur. The Cubs were down 3 games to one, and we not only had tickets for the game, we had tickets for Yom Kippur services at our synagogue in Berkeley, where Mrs. Cubbieblue was an officer, and where I took very seriously my obligation to my ancestors. But we had to support the Cubs. They were one game away from elimination and who knew if they would ever come this close again? If Hank Greenberg could refuse to play on Yom Kippur and he wasn't even religious, how could I attend the game and skip observing the holiest most solemn day of the year?
We compromised. We decided to do both. Typically services on Yom Kippur start at 9 in the morning and go until noon. At noon there is a short break followed by a noon service for about an hour. Then there is a break, not a lunch break because we are fasting. And then services resume at 3pm and to about 8pm. We went to the 9 am service and at noon we changed our clothes at the synagogue. We drove (a sin) to San Francisco and ran to our seats in time for the first pitch. We continued our fasts while we watched a close game which turned out to be between Mark Grace and Will Clark. We watched the game come apart in the eighth and ninth innings. I couldn't stand to see the final out. We ran to the car and changed our clothes in the parking lot. It was very private. Everyone else was watching Will Clark playing God's messenger to Cubbiebluestew. We heard the Cubs lose as we pulled out of the lot and headed back to Berkeley where we were in time for the late afternoon service.
I know, deep in my heart that it was my fault. Some will say that it was Mitch Williams breakdown, others will say it was Clark's heroics. I know that they were just playing the roles assigned to them to punish me on the spot for my irreverence and failure to observe Yom Kippur without accommodations for my Cub fetish. Warning: This year Yom Kippur starts at sundown on October 8 and continues to sundown on October 9. I expect the Cubs to be in the playoffs.