Game Recap: Cubs 6, Astros 1; history nearly repeats itself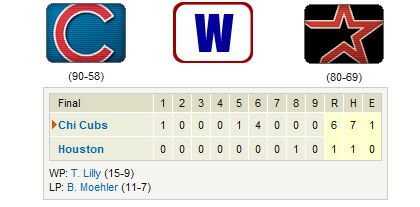 Houston's got to be pissed.  There they were, on a ridiculous hot streak, beating teams left and right, and suddenly a hurricane named Ike and a commissioner named Bud brought their party to a screeching halt.
2 games and 18 innings later, the Astros achieved a whopping solitary hit while the Cubs took advantage of how the neutral series ground was actually Wrigley North.
In today's annihilation, Ted Lilly threw 7 innings on 85 pitches.  He allowed 1 hit - only 1! - walked 1 Astro, and struck out 9.  And while Lilly was mowing them down, the Cubs offense delivered on some big hits.  Jim Edmonds hit his 18th homerun of the year, Derrek Lee smacked number 19, and Geovany Soto hit his 22nd.  But the best part about it - all but 1 of the homeruns hit today had runners on.
It is true that Lou Piniella tried to make things interesting late in the game.  He called on Samardzija, who only recorded 1 out while walking 2.  More dastardly, Lou turned to Bob Howry in the 9th.  I remarked at the time to Jon Miller that Lou was trying to turn it into a save situation for Kerry Wood.
Series Recap: Perhaps the best, single word to describe this series is "surreal."  The Cubs played a road series against Houston in Milwaukee, where they proceeded to obliterate the formerly hottest team in baseball while turning around an abysmal downward spiral that had led more than one Cub fan into jumping off the ledge.
More importantly, after going 1-8 during a stretch that began on August 30th and ended on September 9th, the Cubs have gone 5-2 from a stretch beginning on Sept 6 to tonight.  The Cubs are also riding another winning streak, this one at 4 games, and they find themselves in the position of landing the death blow against the flailing Brewers, who could be eliminated as soon as Thursday.
It's a cool situation, really.  Here we were, panicking about how the Cubs would have a rough road this month, including 6 against the "surgin' Brewers," and now we are looking at it from the other end.  The Cubs are in position to keep the Brewers out of the playoffs all together.
Current Record: 90-58
Position in the NL Central: 1st place, 8 games in front of Milwaukee and 10.5 ahead of Houston
Best Possible Record: 104-58
Worst Possible Record: 90-72
On Pace For: 98-64
Magic Number: 6, as powered by CubsMagicNumber.com