Game Recap: Cubs 2, Pirates 0, Yarrr, another sweep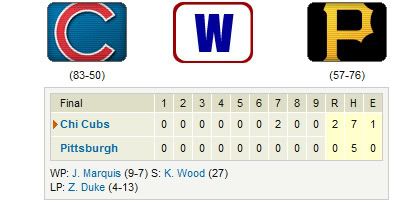 If Jason Marquis is a blind squirrel, then shutting out the Pirates is a nut he found. I guess it was bound to happen. Marquis went 7 strong innings, throwing 95 pitches, striking out 3 while walking 0 and surrendering 5 hits. However, in a turn of pure irony, while Marquis battened down the hatches and held the Pirates scoreless, the Cubs offense floundered and managed to only score 2, one from unlikely hero Ronny Cedeno, and the other from a sacrifice bunt by Henry Blanco.
The Cubs offense actually accounted for 7 hits - including doubles by Soriano, Theriot, and DeRosa - and 2 walks, but for the most part they just couldn't finish what they started. Fortunately, it turns out that the Cubs don't always need to score 12 or more runs in a game to win.
For me, perhaps the funniest part of the game is how, in 2 innings pitched, Kerry Wood and Carlos Marmol combined to strike out more Pirates than Marquis managed in 7. Not that Lou had it planned that way, but maybe it actually works out to the team's benefit to replace a soft throwing righty with two flame-throwers who derive pleasure from throwing pitches with ungodly break to them. Regardless, the Cubs won again, and when they eventually lay claim to the NL Central Championship, while their thank you speech should have 10 minutes dedicated to the Pirates, let the detractors remember that the Brewers played Pittsburgh just as often.
Series Recap: Another road series sweep. Just two months ago, the Cubs were a team with a glaring weakness - they could not regularly win on the road. However, after having gone 13-1 in their last 14 road games, the Cubs now have one of the best road records in baseball to help compliment their overall standing as - wait for it - The Best Team in The Game. Chicago is now 34-31 away from home. Similarly, the Phillies share that road record, the Brewers are 36-31, the Angels top all of baseball with 40 wins and 25 losses, and the Cardinals are actually 37-29. Maybe it's no coincidence that the Cubs have turned things around after releasing Scott Eyre, who was apparently depleting his teammates of energy by eating his - and their - share at all the pre-game buffets.
Before this month started, I predicted that they should win 17. They have; in fact, the Cubs have now won 18 this month. I also said that they could win 20 if all the cards fell the right way. At this point, 20 wins seems very likely. Some people are going to look to this upcoming 4-game set against the Phillies as a Series With Implications. I'm not so severe in my way of thinking, but it certainly would be nice if the Cubs could step on the Phillies's throats for 4 games and make it clear to them that they won't have what it takes come October.
Current Record: 83-50
Position in the NL Central: 1st place, 5.5 games in front of Milwaukee and 10 ahead of St. Louis
Best Possible Record: 112-50
Worst Possible Record: 83-79
On Pace For: 101-61
Magic Number: 25, as powered by CubsMagicNumber.com