Game Recap: Cubs 6, Nationals 1; Another win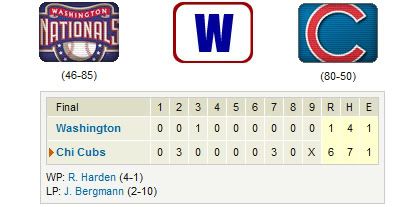 When he realized that neither Jason nor I had themotivation to write up a Series Preview, our resident realist Rob revealed his belief that the Cubs should sweep the Nationals. And they would have, too, if not for those punk kids and that talking dog, too! No, actually, it was mostly the fault of Jason Marquis. Had he not lost the ability to throw strikes, the Nationals probably would have failed to climb back and win the first game of the series.
Thankfully, Rich Harden is no Jason Marquis. Harden gave another stellar performance today, throwing 7 innings of 2-hit ball and matching his career high of 11 strikeouts. Harden has been a pleasure to watch as he just appears unflappable and unhittable - in fact, he's strongly reminding me of Mark Prior circa 2003 with one exception - Lou Piniella isn't pitching Harden's shoulder or elbow into oblivion. His 109 pitches today are the second most he's thrown for the Cubs all year long. (He threw 112 pitches against the D-Backs over a month ago.) Contrast that with 2003 Mark Prior, who in 30 starts that year, threw under 109 pitches only 10 times. Yeah, screw you too, Dusty Baker.
Harden is now 4-1 as a Cub with a 1.47 ERA. The Cubs are an 80 win team and with 32 games remaning, there is still a good chance that they might finish the year 20-12 (that's a winning percentage of .625) and become the first 100-win Cubs team in more than 70 years. Me, I'd still rather see them win a World Series.
Oh, and one other thing about Harden.  At this point, if Rich and the Cubs faced Sabathia and the Brewers in the playoffs, even if I wasn't a Cubs fan, I think I'd have to bet on Harden.  He's amazing.
Offensively, Mark DeRosa continues to rip the ball. He's hit 4 homeruns in as many days, and with the aforementioned 32 games remaining, DeRo has already achieved career highs in homeruns, RBI, walks, and runs scored.
Additionally, the still-struggling Kosuke Fukudome hit a pinch hit homerun - his 9th of the year - and I have hopes that he'll soon pull it together and give the Cubs a solid month of the kind of offense we came to love back in April.
Series Recap: Okay, sure, maybe the Cubs should have swept. However, if the Cubs average 2 wins per every 3 games from here on out, I, nor you, nor anybody will be complaining.
For me, I'm just pleased knowing that the Cubs are now 5 wins away from matching last year's total - a feat they will likely accomplish before August ends. Before the month began, I speculated that they should and perhaps would need to win at least 17 to maintain a healthy lead on the Brewers. With 7 games remaining, they have won 15, and I'd argue that they are in position to win 20.
Granted, the Brewers have hung tough and they've kept up. In fact, I'm astonished by how well they've played. However, they won't keep up. The Cubs are just a superior team and, sooner or later, they'll discover that C.C. Sabathia has been writing checks that his arm cannot cash. In the meantime ...
Current Record: 80-50
Position in the NL Central: 1st place, 5 games in front of Milwaukee (who, at this posting, are tied 3-3 with Pittsburgh in extra innings) and 8 ahead of St. Louis
Best Possible Record: 112-50
Worst Possible Record: 80-82
On Pace For: 100-62
Magic Number: 28, as powered by CubsMagicNumber.com