Game Recap: Cubs 3, Reds 2; The Moose Rides Again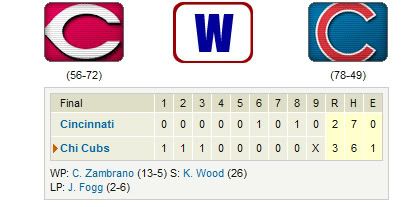 It's been written that, on days when he's not pitching, Carlos Zambrano shags fly balls in the outfield and throw them back in left handed. It turns out that the Big Moose is ambidextrous and, in the right circumstance, he'd love the opportunity to play the outfield on days he's not pitching. He'd just catch the ball with his right hand and throw it back in lefty.
He just might have the necessary stick for the job. In 482 career at bats, Zambrano is batting .241. That's not great unless you're a pitcher, but it could perhaps be successfully argued that players who don't bat regularly struggle more than players who bat daily. What's more impressive is his 16 career homeruns. Zambrano may just be capable of improving on that .241 career average, had he the chance to bat 500 times in a season. However, if it's true that limited plate time negatively effects a player's batting statistics, it would be hard for the Big Moose to do much better than he's done this year. Essentially, there have been 24 games this year in which the pitcher has been the most productive hitter on the team - the games Zambrano has started. Rather than give you the cold numbers, I'll give you the projections:
In 550 at bats, Carlos would have 196 hits, 31 doubles, 8 triples, 24 homeruns, 94 RBI, and he'd be batting .357 with a .928 OPS. Maybe the ol' Zambino photoshop was even more appropriate than it first appeared: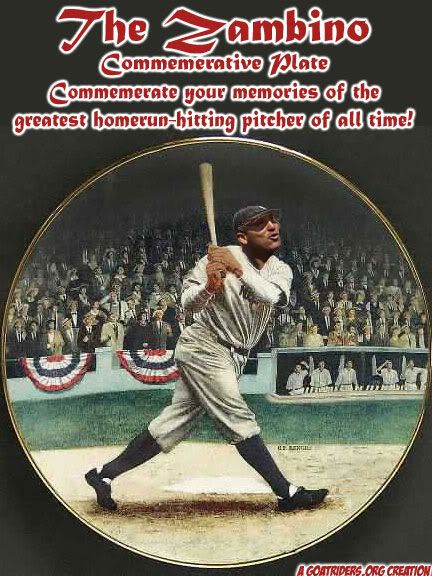 Perhaps the one factor detracting from Carlos's quest to be a hitter is his lack of patience. In all those career at bats, Z has a whopping 5 walks. That's Dunston/Patterson territory. However, it's conceivable that he's currently taking the "make 'em count" approach and is more aggressive than he'd be if he was hitting every day.
He certainly made 'em count today. Carlos was 1 for 2 with a homerun against the Reds, while also pitching 7 innings and giving up only 1 earned run off of 6 hits and 4 walks. His homer was the last run the Cubs scored, and it was also the difference in a 3-2 ballgame.
It remains concerning that Carlos has bouts with wildness, although my personal belief is that he was merely trying to get the Reds hitters in trouble with Dusty Baker. Rumor has it that the Reds have a "bench 'em if they walk twice in a game" policy, and for tomorrow's game, Chris Dickerson would've at the very least been flipped in the lineup with Corey Patterson, had C-Pat not drawn a walk in the 7th.
Offensively, the Cubs managed 6 hits and 2 walks of their own off of Josh Fogg and company. Fogg only went 4 innings and threw 60 pitches. I'm convinced that either Dusty got confused and thought it was the 8th when he pulled him, or he's planning on starting him again on Sunday. Apart from Zambrano's homer, the other two Cubs runs came from a DeRosa solo shot and - go figure - a Derrek Lee double play that also scored Alfonso Soriano.
One other thing worth mentioning is that Kerry Wood struck out 2 to get the save, and Carlos Marmol gave up his first earned run in over a month and his first hit since the end of July.
Series Recap: Taking 2 of 3 from the lowly Reds somehow feels like a disappointment. The Cubs should sweep these chumps, right? However, they are now 78-49, they've gone 13-5 this month, and tomorrow they host a team that's even worse than Cincinnati before traveling to the armpit of Pennsylvania to pummel on another crappy squad.
In other words, I'm not complaining, not by a long shot.
Current Record: 78-49
Position in the NL Central: 1st place, 5.5 games in front of Milwaukee and 8 ahead of St. Louis
Best Possible Record: 113-49
Worst Possible Record: 78-84
On Pace For: 99-63
Magic Number: 30, as powered by CubsMagicNumber.com