Game Recap: Cubs 11, Braves 7; Team of Destiny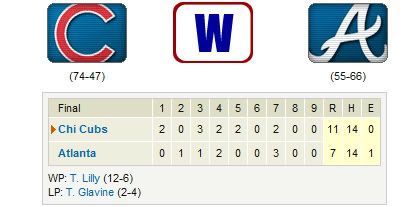 In tonight's game, Atlanta's hitters finally remembered how to do their jobs, but not until after the Cubs continued their torrid offensive onslaught.
The Cubs pummeled Tom Glavine, lighting him up for 7 earned runs in 4 innings of work. (Memo to Glavine: mmm, retirement.) Chicago hitters combined for 14 hits, 8 walks, and they scored 11 runs. Every regular contributed, with the biggest nights coming from the Fonz and Aramis, who hit homeruns and combined to drive in 5 runs. Other fun figures - Lee, Soto, DeRosa, and Reed Johnson all hit doubles. Soto was one of only two regulars to only get one hit - but, then again, he drew 3 walks. Aramis was 2 for 2 when he left the game due to a hip contusion that shouldn't keep him out of the lineup at all. Oh, and the Braves cried a lot.
On the pitching front, Lilly gave a mehdiocre performance. He allowed 4 earned in 6 innings, primarily off of 8 hits. But, hey, he also struck out 8 while walking only 2 and, best yet, he won his 12th game of the year. Did anybody in early May think that Ted Lilly would ever be 12-6 at any point this season?
Meanwhile, somewhere right now there's a guy on a bus keeping a seat warm for Howry. He allowed 4 more hits tonight, 3 of which turned into runs, thanks to a 3-run shot by Jeff Francoeur. Damn you, Howry! Ahem. More impressive is that Mark Kotsay, who went 5 for 5, hit for the cycle in a loss. As far as I know, the last time an opponent hit for the cycle in a loss was Willie Magee in 1984 in the game that will always be known as The Sandberg Game. You know what else happened in 1984?
Anyway, the Cubs have now won 8 straight on the road. This is the first time they've won 8 straight since 1945. Do you know what else happened in 1945?
One last thing. I forgot to mention that, yesterday, the Cubs won both double headers by 8 runs, something that hasn't happened since 1908. Do you know what else happened in 1908?
Series Recap: I have man-love for Carlos Marmol. Since July 20th, Marmol has gone 13 innings without allowing a run to score. In that time, he's given up 2 hits, 8 walks, and he's struck out 17.
He's also gone 8.1 innings in a row without surrendering a hit. In that time, he's walked 3, and he's struck out 12.
One month ago, his ERA was 4.13. Today, it's 2.89. In other words, it's dropped 1.24 runs in less than 30 days; in fact, it's taken 19.
For that reason and more, the Cubs have swept the Braves. They are now 4.5 games ahead of the Brewers and 7.5 games up on the Cardinals. They have won 4 straight and 7 of their last 8. In their last 17, they are 14-3. They have pulled within a win of a .500 record on the road. The Brewers have been one of the hottest teams in baseball, and yet they are 4.5 games out.
Team of destiny, anybody?
Current Record: 74-47
Position in the NL Central: 1st place, 4.5 games in front of Milwaukee and 7.5 ahead of St. Louis
Best Possible Record: 115-47
Worst Possible Record: 74-88
On Pace For: 99-63
Magic Number: 37, as powered by CubsMagicNumber.com