Games Recaps, Cubs 10, Braves 2; Cubs 8, Braves 0; 26 Up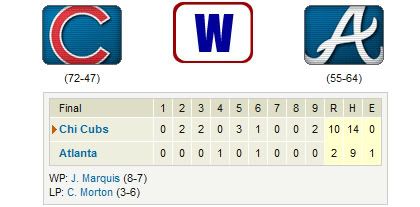 Rumor has it that it's a pretty hard feat to win both games of a double header. I imagine it is perhaps even tougher when your team plays poorly on the road. Then, take that difficulty factor and multiply it times Marquis. In other words, Double Header(Cubs+Road Series) x Marquis = Very Unlikely, but it still happened anyway. That's just the kind of season we're watching.
The Cubs have now won 7 games straight on the road. Even though St. Louis won earlier today, and even though the Brewers are winning as of this writing, both will lose ground today to a team that outscored their opponent 18-2.
In the first game, the Cubs knocked 14 hits while drawing 6 walks. They had multi-hit games from 6 of 8 starters; the 1-for-5 Derrek Lee and 0-for-4 Kosuke Fukudome the only two sad participants. Geovany Soto and Jim Edmonds both hit homers and doubles. Mark DeRosa went 2 for 3 with 2 walks, a double, and a steal.
It was pretty much More of the Same in game two. The Cubs achieved 10 more hits, they drew 6 more walks, and while nobody hit homeruns, all but 2 regulars got hits. One such regular who successfully put wood to leather was Fukudome, who went 2 for 5 with 2 RBI. All this in comparison to an Atlanta team that combined for 12 hits in both games, and only 3 in their second loss of the night.
Perhaps the biggest shock of the night comes from Jason Marquis, who arguably out-pitched Rich Harden. Marquis only threw 5.1 innings of work, but he only walked 2 while giving up 6 hits. In contrast, Harden walked 5 in his 5 innings of work while giving up 2 hits. It was not Rich's best night, even if Atlanta tried valiantly to make it look like it was.
The Cubs used 6 relievers over the span of the 2 games, and only Neal Cotts was used in both. He went 1.2 innings total, striking out 2 and allowing 1 hit, and the Cubs pen in total pitched 7.2 innings, allowing 4 hits, 1 walk, and 0 runs, while striking out 7.
This puts the Cubs at 73-47, or 26 games over .500. A very rudimentary search of previous seasons tells me that the last time a Cubs team was 26 over .500 was in 1984; the date in which they achieved that total was August 29th, when they were 79-53. They'd finish the year 96-65, 31 games over the .500 mark.
It's August 13th and the Cubs are on pace to do better. In fact, at their current pace, the Cubs are en route to their best record since ... 1945, when they won 98 games. But more importantly, they remain above the pack in the NL. I'm stating the obvious, but it would be fantastic if they entered the playoffs with home field advantage.