Game Recap: Cubs 7, Brewers 2; it's practically a low blow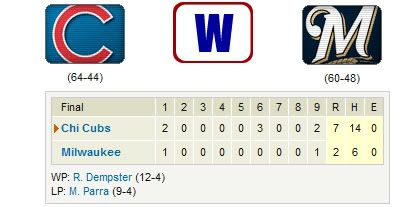 Anyone not feeling it tonight?
The Cubs haven't just beaten the Brewers on the road this series - they've outright dominated them. It's been a painful series for Milwaukee fans, who thought up til now that they just might be able to overpower the Cubs and take the NL Central pennant this year. Instead, it appears as though the Cubs are unstoppable, even if they can be slowed down from time to time as we've seen in recent weeks.
Tonight's story centers again around the two-prong attack that Chicago brings to practically every game they play. That's the scary thing about the Cubs. They always have the ability to score 5, 6, 10 runs a game. They also always have the ability to hold their opponents to 0, 1, 3 runs. Put a high-octane offense and an ice-cold pitching staff together and you have the recipe to build a World Champion team.
The Cubs did what they could to show that ability off tonight. On 14 hits and 8 walks - including 3-hit games from Alfonso Soriano, Ryan Theriot, and Reed "The Steed" Johnson and multi-walk games from Soriano, Theriot, and Ramirez - the Cubs were able to score 7 runs. They again did it without the homerun. Ryan Dempster complimented this offensive explosion with 7 innings of 5-hit, 1-walk, 1-run baseball in which he struck out 9.
The Cubs now have a healthy 4-game lead on the Brewers. Jon Miller tells me that, entering the month, they led by 2.5 games over the Cardinals. While it has hardly been a month worth singing about, the Cubs at this point will be exiting perhaps the hardest month on their schedule with a net gain in the standings.
Maybe our most caustic writer Rob is right - it's certainly not a sure thing. Let's be fair, it never is. But this remains an outstanding team, little flaws included. They're well assembled top-to-bottom, they are managed by somebody who actually knows what he's doing, and they're going to pick up steam in August.