Game recaps: Marlins 3, Cubs 2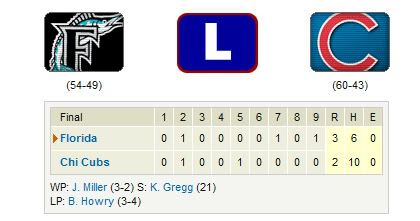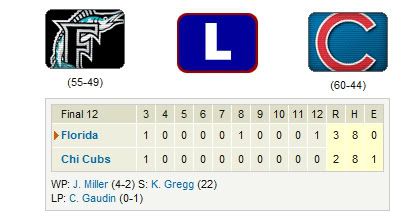 The Cubs are, as a team, slumping horrifically right now.  The Brewers have caught them in the standings, hardened Cub fans everywhere have returned to the realm of panic (properly known as Japanic, lame joke), and Cubs bloggers such as myself now have sick stomachs whenever we think about this shoddy offensive play.
Let's observe the facts.  Since July 13, the Cubs have gone 3-7.  In their 7 losses, the Cubs have scored 10 runs.  10 runs!   This from an offense that could shake water off a tree, it's supposedly so mighty!  Lou has got to be livid, Cub fans have got to be panicking, and suddenly with just a few days before the trade deadline, one can't help but wonder if Jim Hendry isn't trying to find a way to squeeze in a big bat into an already theoretically-potent lineup.
The pitching has mostly been there.  In these 7 losses, the Cubs have been outscored 27-10 - that's an ERA below 4.  Their opponents have beaten them by 2 or fewer runs 5 times.  The timely hitting has vanished, the plate discipline has waned, and the Cubs have looked ugly.
Now, the part where I say don't panic:
Don't panic.  Unless you want to convince me that something has suddenly happened to the offense where they have returned to normal - do you really want to argue that this is normal? - then perhaps you shouldn't worry too much.  Do you really think the Cubs, as a team, will always leave 11 men on base every game?  Do you think that the Lees, Ramirezes, Sorianos, Sotos, and even the Edmondses of the team will fail to deliver?
If, as a team, the Cubs continue to post a sub-4 ERA the rest of the season, then I don't think they will have much to worry about.  Even as the Brewers look good and ahve charged, I remain unconvinced that they will be able to keep up with the sheer firepower of the Cubs for the remaining two months of the season.
However, don't get me wrong.  I'm still sick to my stomach.  I'm anxious to see this team pull it together and lay the hammer on a few of their opponents.  In a day's time, they'll be in Milwaukee battling it out in a 4-game set with big implications.  But, me, I'm going to give them minimally 2 more weeks of shoddy play before I really start slapping that big, red, glowing, tempting panic button.  mmm, such an attractive hue.  Must ... slap ...
Ahem.  Nothing to see here.  Go Cubs.