Game Recap: Cubs 6, Marlins 3; die Fish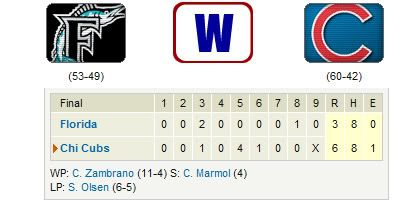 I've come to realize in recent months just how much I hate the Marlins.  I suppose that a similar hatred is felt toward the Padres by Cub fans of a certain generation.
For that reason, I'm always somewhat nervous when the Cubs play Florida.  The Marlins have had a nasty tendency to beat Chicago as of late, and to sometimes beat them badly, but last night was an exception to that new rule.  
The Alfonso Soriano led-off offense scored 6 runs on 8 hits and 4 walks.  Soriano himself went 1 for 3 with a double and a walk, although I remain unconvinced that he's going to be slump free upon his return.  The Cubs also had 2 homeruns, both from unlikely players - Ronny Cedeno and Henry Blanco.   Aramis Ramirez is trying hard to best out of his clueless slump by going 2 for 4 with a double and 2 RBI.  Oh, and Carlos Zambrano went 1 for 2 with a double.  He's batting .356 on the season and I will shortly have to break out the Zambino photoshop again.
Speaking of the Big Moose, Carlos went 7 innings, giving up 6 hits, walking 0, and striking out 6.  His shoulder concerns appear to be a thing of the past, as he was allowed to throw an absurd 125 pitches.  
Most important on the pitching front was Carlos Marmol, who came into the game in the 8th inning with 2 men on and 2 outs and struck out Willingham to escape the danger.  He then decided that he liked the danger, and in Rod Beck fashion he came back in the 9th and walked the bases loaded before striking out Wes Helms to end the game.  The difference is that when Beck would allow 3 men to get on base in the 9th, he'd look as though he was bored with it while he calmly struck out the last batter to end the game.  When Marmol does it, he looks like he's on the brink of soiling himself, or at the very least, of vomiting.
That evokes the question - What does Carlos Marmol need in order to handle closing?  The answer: it Depends.  
"It Depends," get it?  It's a pune, or play on words. Y'know, because Depends is the brand name for adult diapers.  Pretty funny, right?  Anybody?  Anybody laughing at all?   No?  Crap.