The Cubs and the Playoffs
As the second half begins, and I realize I'm jumping the gun here, it's hard not to think about the Cubs in October. Before they can get there, they will still need to beat the Brewers and the Cardinals, and often. But, even then, once they get there it will be no easy walk for them.
Luckily, this is perhaps the deepest Cubs rotation ever. (Okay, in theory, the '04 rotation would have been far and away the best, but Dusty had to get all Dr. Giggles on the arms of his young pitchers.) Now, in terms of how the Cubs pitching staffs compare with the probable-if-not-likely other playoff teams, our beloved Cubs match up very, very favorably. But don't just take my word for it. I did some handy, dandy graphics, in which I compared the Cubs pitchers against the NL teams with the best chance of making the playoffs.  Naturally, I omitted St. Louis.  Take a look: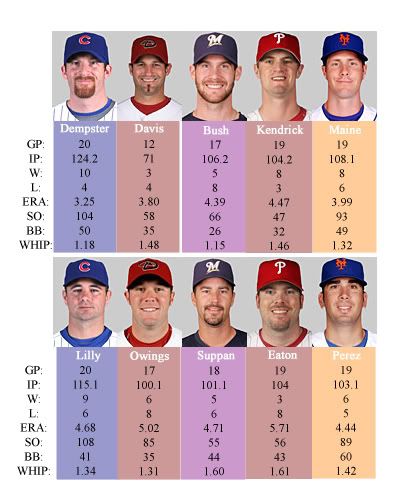 As you can see, the Cubs pitchers match up well. The thing is, obviously, every good team has an ace. Carlos, while having proven himself to perform well in big games, is not on paper any better than Brandon Webb, or Ben Sheets, or most anybody else. It's conceivable that the real advantage the Cubs have is that their #3 and #4 pitchers are head and shoulders better than most NL teams #3 and #4 guys. And Ted Lilly, whose numbers remain unimpressive, has actually been a much better pitcher than his numbers reflect.
There are obviously a lot of other factors that will play parts in what happens. From health to offensive outbursts to steady middle relief, it takes a complete team to go deep into the playoffs. The Cubs are a complete team, and they have the advantage of, in my opinion, having the best pitching rotation in the NL.
We'll have more to come on this topic sometime soon.