Game Recap: Cubs 8, Giants 7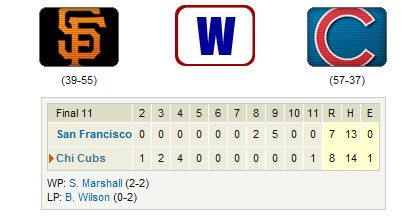 It was a game that should have ended in '08's magical Cub number - 7. The Cubs scored 7 runs through 9 innings, and that should have made the difference, all until Carlos Marmol came out to pitch in the 9th, looking nauseated and flat. But we'll get to that later.
This should have been an entirely different game with an entirely different ending, although I can't contest that the ending we received might not have actually been better than the one we'd been likely to get. Dick Harden made his Wrigley Field and Cubs debut today, and he entirely lived up to his promise. He threw into the 6th inning, he allowed 5 hits, 3 walks, and he struck out 10 guys. Now, I actually have a few points I need to make about Rich before moving on to the other, pressing issues. So:
He absolutely flat-out reminds me of Prior 2003. In '03, Mark Prior could have changed his name to Cy Young and the courts wouldn't have contested it. You knew by watching him that he knew that any situation was escapable, and while Harden had a couple of situations that would have unsettled lesser pitchers, he never appeared to lose control. In the 2nd inning, he allowed a lead-off double to Aaron Rowand, and he then proceeded to strike out the next 2 batters he faced before ending it with a weak foul-out by Vizquel. Two other examples - the 5th inning, in which Harden got the first 2 outs before San Fran managed 2 singles, only for it to be for naught as Harden grounded out Durham to end the inning, and, most importantly, the 6th. In the 6th inning, Harden allowed a Molina double and walked Rowand. Lou trotted out with 2 men warming up in the pen, and after talking it over with Harden he left him in. Rich then easily struck out Bowker, meaning that he exited on a high note as Lou was apparently keeping him on a 100 pitch count today.
I'm obviously no pitching expert, but I tried to pick up the hitch in his delivery that has caused his shoulder so many problems and what I saw looked minimal. There are other pitchers out there - BJ Ryan in particular - who pitch like they have arm injuries waiting to happen, but the violence in Harden's delivery didn't actually seem all that bad to me. He did throw the ball hard, getting up to the high 90's, and he was able to mix speeds and locations very effectively.
And that's all I have to say about Harden, for now.
While Harden was busy making Jim Hendry look like a genius, the Cubs offense was fast at work early in the game. They scored 7 runs in the first 4 innings, and today's offensive MVP has to be Jim "Sleeper Agent" Edmonds. J.Ed went 2 for 4 with his 10th homer and double of the year and 4 RBI. Point of fact, the Cubs managed 14 hits this game, they drew 8 walks, they chased Correia in the 4th inning, and they threatened in both the 10th and 11th innings before they were able to capitalize on their opportunities and win the game on a close play at the plate off of a Reed Johnson single. It's comforting to see how good the offense truly is.
The pitching, meanwhile, is solid. Except for Marmol.
Just think, if Marmol was Wuertz, certain readers of this blog would probably be flipping out. Instead, though, Marmol is an incredibly talented young pitcher with amazing stuff who just can't get it done right now. Part of it his his fault, part of it is Lou's, and part of it is circumstance. For example, the Giants really didn't hit him all that hard today, and 2 of their early, inning-shattering hits were crappy-at-best. I'm talking about Castillo's single off of a diving Marmol's glove for one - this occurred after the 1st out had been made in the 9th. Had circumstances been a little different, Marmol would have gloved it and gunned it, and with 2 outs it's hard to say if Durham would've followed it up with a hit.
Even then, after 2 runs had scored, Bowker grounded into what should have been an inning-ending double play situation, but the throw to Marmol at first was errant and, rather than end the game, it just compounded things. Marmol followed up that odd play by hitting Aurilia and getting examined by the trainer, Lou, and Larry before completing the inning. But the weirdness didn't end - Marmol induced a grounder to short, which was just a little out of Theriot's range (Colin? Feel free to comment on the mediocrity of Theriot's range, it almost cost the Cubs a win today), who then made perhaps the dumbest throw to second I've ever seen. Lying flat on his back after having scooped up the ball, Theriot floats a toss over to DeRosa, making it easy for Burriss to score and tie the game.
Only then, after all that ridiculous drama, did Marmol get out of the inning. Now the part where I throw Lou under the bus for this mess.
Lou Piniella should have yanked him just a little sooner, or perhaps he should have kept him out of the game all together. When Marmol entered the 9th, the Cubs were winning 7-2. Lieber and Marshall were also in the pen. Rather than give either of those guys a little extra work, Piniella chose to trot out Carlos Marmol. Maybe it's a confidence thing, maybe it's a showing support thing, I don't know. But if Marmol is supposed to be the team's top setup guy, then why is he pitching in a 9th inning of a blowout? Makes no sense.
Point of fact, Carlos Marmol has seen way too many innings way too soon this year. If you were watching the game today, you would have heard Bob Brenley say, almost wistfully, "maybe the break will help Carlos recharge for the long-haul of the second half." Sure, while you're at it, why don't you take a crap in the other hand, Bob. We'll see how it turns out.
In all seriousness, Lou and Larry need to sit down and completely re-evaluate how they use Marmol. They need to cut back on his innings, they probably need to either a) keep him out of all close games or, b) limit him to only close games while c) pitching him no more often than every other day for the next month or two. (I'm not suggesting B is the best option at this stage, just so we're clear.)
If they don't do these things, then they will eventually wind up having to shut him down because either Marmol's head won't be right, or his arm won't be. Something is going wrong in there, one way or the other. Which brings me to the part where I throw Marmol under the bus as well.
To summarize my points so far, I've said: 1) Circumstances were tough on Marmol tonight, it wasn't his fault that there were bonehead defensive plays, nor was it his fault that the ball got hit in the infield just out of the reach of multiple gloves, and B) Lou really should figure out a different way to mange him, as he is currently contributing toward what I would call the destruction of Marmol's career.
But regardless of those two points, at the end of the day, Marmol's job is basically to not care. Some jabrone opened the inning by hitting a double off of him? Marmol shouldn't care. Strike out the next batter, finish these idiots quickly. Some schmuck manages a bloop infield hit off of Marmol's glove? Marmol shouldn't care. Induce a double play ball and get it over with. Oop, the double play gets mangled? Marmol shouldn't care, get one more out.
The problem is, Marmol cares. You can see it on his face. He's not confident out there. And, as I described earlier in this post, he looks nauseated and his stuff looks flat. It's not an official rule in baseball, not by any means, but if ever there should be an unofficial rule in baseball, it's this one:
If your reliever/closer looks nauseated when pitching close-and-late, then it's time to find a new reliever/closer.
As much a valuable tool as Marmol has been in Lou's belt, he can't rely on the guy any longer. Bump him back to the 6th or 7th. Give Marshall, Cotts, or hell, even Lieber the 8th inning before you give it to Marmol again. And maybe Jim Hendry needs to entertain the notion of picking up the closer of a team that's fallen out of contention to serve as a new setup man to Kerry Wood.
The Cubs have a good bullpen regardless of whether or not Marmol is a part of it. But if Marmol is there and firing on all cylinders, then the Cubs bullpen is one of the best in the game.
All of that, however, is moot at least for tonight. The Cubs won the game dramatically in the 11th. Wrigley Field was shaking, all the fans were singing, and Chicago maintains the best record in baseball as we enter the All Star weekend. Oh, and Harden did in fact live up to all expectations, at least for today.
If this game against the Giants has shown us anything, it's that, like this season, it's not always going to be easy. There will be rough stretches in which even the best look mediocre, but this team has heart, and they're going to keep on winning. This team doesn't have any quit, and that is a rare thing in a Cubs squad. For me, at least, the second half can't get here fast enough.