Series Preview: Giants vs. Cubs; Game Recap: Cubs 3, Giants 1
It looks like this article is going to be a whole bunch of things scrunched into one.  That's the price we pay when the Cubs inconveniently play an opening game of a series during the middle of a work day.
The San Francisco Giants used to be a good team.  Point of fact, over an 8 year span they averaged 92 wins a season, they made 4 playoff appearances, and they even got to lose a World Series.  I'm sure there are a lot of Cub fans out there who'd make a Faustian deal for those kinds of results - after all, when you're a Cubs fan, even a World Series defeat would be amazing - and that's pretty much what the Giants did.  They went to a crossroads at midnight, they sacrificed some virgins and murmured some chants, and when the devil finally appeared he was carrying a briefcase full of 'roids.  Unfortunately for the Giants, the life of the deal has ended and Karma has reversed their fortunes - San Fran's been averaging 74 wins a year these past 3 seasons, and they're on pace to win under 70 this year.  You know your team is screwed when your top offensive superstar is on pace to hit about 14 homeruns and your multi-million dollar ace has lost 12 games before the All Star Break.  Yep, that's Fog Town these days.  They might as well rename their ballpark: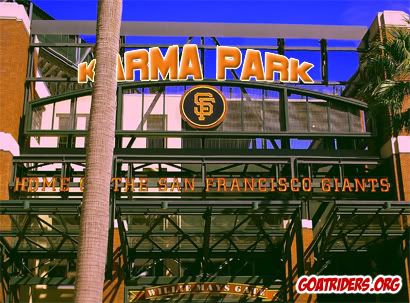 The Pitching Match-Ups
Friday, July 11th Matt Cain vs. Jason Marquis
What do you get when you mix a 23-year-old righty who's already logged 560+ career innings and had an ERA of 3.65 last year and still lost 16 with the crappiest Cubs starter?  Apparently, you get a duel.  We'll get to that later, so read on.
Saturday, July 12th, Dick Harden vs. Kevin Correria
Kevin Correria is the poor schmuck tapped by the Giants to pitch in what will surely be an electric game at Wrigley Field.  So far this year, Correria is 1-5 with a 4.96 ERA, and in his last outing against the Cubs on July 2nd, he gave up 4 earned runs in 6.1 innings of work en route to a Cubs 6-5 victory.  
He faces the already-legendary Rich Harden, a man whose immense talent is dwarfed only by his incredibly fragile arm.  It's a little too early to do much more than worry and wonder about what his health will be like for the remainder of the year, but the Cubs appear to be planning a strict regimen of pitch counts, they plan on giving him 5 days rest whenever possible, and they have apparently brought in a hypnotist who will regularly put Harden under and tell him that he feels no pain and must cluck like a chicken anytime Lou curses.  In other words, it's going to be a weird, interesting second half.
Sunday, July 13th Ryan Dempster vs. Tim Lincecum
It seems likely that Dempster's final start before the break will keep him out of the All Star Game in the middle of next week, although I am obviously only guessing.  Regardless, this will be the toughest game of the series for the Cubs as Dempster looks to continue his home game dominance against the one good pitcher the Giants have.  It's safe to say that any team in baseball would love to have Lincecum in their rotation, as the 24-year-old righty is 10-2 this season with a 2.66 ERA and 126 strikeouts in 121.2 innings of work.  The last time he won this season was against the Cubs, who he held to 3 runs in 6 innings of work.  Dempster has his work cut out for him.
Predictions: Well, I believe it is safe to say that the Cubs won't get swept.  
That said, the Giants will make it hard on the Cubs to be swept, too.  Something I said yesterday was that, in any given series, the Cubs have the best pitcher in 2 out of 3 games.  As good as Dempster has been, Lincecum has been better.  That said, Dempster is 10-0 at home with a 2.58 ERA, but his opponent is 7-1 on the road with a 2.23 ERA.  No matter what, it's going to be a fun game to watch.
I have a very strong suspision that Harden's debut tomorrow will be followed closely by a lot of Cub fans.  I also don't expect Lou to use him beyond 6 innings.  I'll make no predictions, but I will say that I haven't felt this much anxiety about a start since the days of Kerry Wood and Mark Prior circa 2004 and 2005.  And, with that, onto today's Game Recap.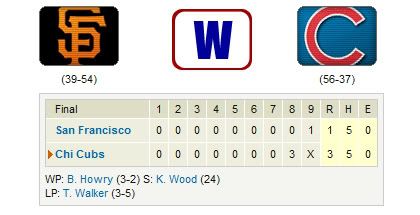 Who knew that Jason Marquis would find himself in a bonafide pitcher's duel today?  Perhaps the recent trade for Chad Gaudin - a man who has been characterized by some as the fifth best starting pitcher on the team - has motivated Marquis to step up his game a little.  Regardless of why it happened, Marquis went 4 innings before surrendering a hit today.  Unfortunately for him, Matt Cain was equally effective - he held the Cubs to 3 hits and 3 walks in 7 innings of work while striking out 9.
Marquis, meanwhile, who exited after 81 pitches, also allowed only 3 hits while walking 2.  Now, if you're wondering why Lou seems to rarely allow Marquis to pitch past the 7th, or to throw more than 80 or 90 pitches, then look no further than the cold, hard reality of statistics.  Marquis is actually a respectable pitcher, up until he throws his 75th pitch.  Teams are batting .253 against him from pitches 1-75.  After that, it gets ugly - teams are hitting .380 against Marquis from pitches 76 and beyond.  So, being the wily veteran manager that Lou is, he knows that he has more important things to roll dice on, like pitching Marmol for the 3rd straight day, or yelling at Carlos Zambrano on the mound in front of 40,000 screaming fans.  (If Lou was afraid of taking his life into his own hands, then he wouldn't be managing the Cubs.)
Luckily for the Cubs, they have a third baseman who is clutch.  Aramis Ramirez has hit more than his fair share of big homeruns in his career, and he added to that talley today.  In the 8th inning, Tim Walker gave up a leadoff hit to the Quiet Theriot before Little Babe Ruth sacrified him to second.  The Giants then made a ridiculous mistake - they intentionally walked Derrek Lee to get to Aramis.  Ramirez proceeded to make them pay with a deep homer to left, and that would be enough to make the difference.
In the 9th, Kerry Wood proved that he could allow the leadoff man to get on base and still get a save, although he still permitted a run to score.  Actually, I think Wood just wanted to make things more interesting, so he allowed the first three Giant batters to get on before mowing down "The Hope of San Francisco" Aaron Rowand and inducing a flyout and groundout to end the game.
The Cubs are now 56-37 and, thanks to Milwaukee losing yet again, they now stand 4.5 games ahead of the Cardinals and 5 games in front of the Brewers.  I guess Milwaukee is learning the hard way that trading for an ace still means that they have to actually, y'know, win games.  You don't just get bumped up to first place on the merits of Sabathia's talent.
Oh, and one last thought.  The Cubs again have the best record in baseball.  Sleep well, Cub fans.  Harden pitches tomorrow.