Game Recap: Reds 12, Cubs 7 - homers kill Cubs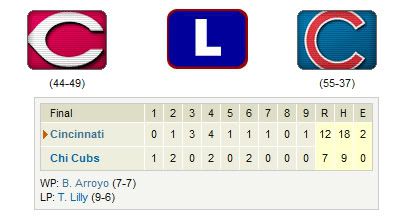 Apologies, as this will be abbreviated.
Ted Lilly had far from his best stuff today, as he was chased by the Reds after only 2 plus innings of work.  His replacement pitchers were no better - every guy the Cubs turned to allowed at least 1 run scored, from Wuertz and his 4 earned runs to Gaudin and Cotts and their 1 run apiece.  The Reds hit 7 homeruns tonight.  I am comforted by knowing that it's a matter of time before the following image becomes a reality: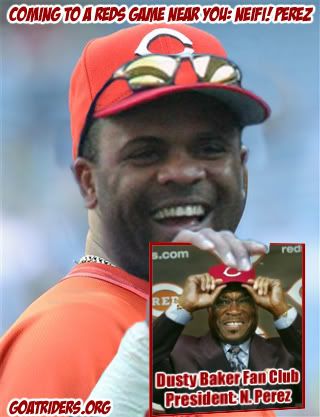 Jon Lieber also gave up 2 more runs to the Reds.  Lieber has now allowed 9 earned runs against the Reds in 5 innings of work - that's a cringe-worthy ERA of 16.20.  I am convinced that Lieber owes Dusty considerable gambling debts, and has become his patsy.  Subtract his performances against Cincy, and Jon Lieber has an ERA of 1.81 in 39.2 innings of work.
The Cubs actually managed to score 7 runs again tonight.  I recently noted that they've scored 7 runs in amost 25% of all wins.  This is the second time they've scored 7 in a game they lost.  Mike Fontenot hit another homer and double tonight.  Somebody call up Roy Hobbs and tell him they've found out who stole Wonderboy.
Series Recap: The Cubs were pwned by Cincy today, but they had another series win and they remain 4 games in front of 2nd place Milwaukee.  Chicago has one more series before the break, against the hapless Giants.  
One thing I realized as I write this is that, when I look at projected starters for any given series, I always feel a warm sense of relief when I realize that the Cubs have good starters pitching.  What I realized tonight is that I get that sense of relief in every series, because in any given set, the Cubs are likely to have the better pitcher in at least 2 out of 3 games.  When even your weakest link is on pace to win more games than he loses, you're doing pretty good.
Current Record: 55-37
Position in the NL Central: 1st place, 4 games in front of Milwaukee
On Pace For: 97-65
Record needed to win 120: 65-5