Us vs. Them - Matching up Chicago and Milwaukee's rotations
As somebody going crazy for Cubs content these days, I was given an inspiring idea that I had to look into.  You see, Brewers fans are ecstatic because C.C. Sabathia is a talented arm who will fortify their eventually - and now almost certain - playoff run.
Sabathia, however, wasn't always good in '08.  In fact, his first 4 starts were ridiculously bad.  Point of fact, the Cubs have a lefty starter who's followed a similar path.  Theodore Roosevelt Lilly is another guy who started out horribly and picked up the slack later.  So, because I'm a curious bugger with time on my hands, I've basically drawn up a comparison chart for your consumption as to how they've done their previous 15 games: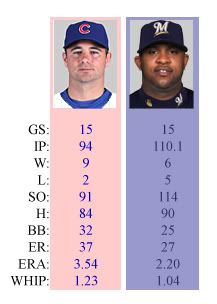 While Sabathia is the clear winner, Lilly has been a tremendous pitcher for the Cubs.  None of Ted's numbers are bad, and, considering that we're comparing the Brewers #2 pitcher to the Cubs #4 guy, it gives you a little bit of perspective on how deep our rotation is now.
All told, the Cubs are rolling with the following four pitchers in a short series, and here's how they look:
Carlos Zambrano: 17GS, 112.1IP, 37ER, 9-3, 73K, 38BB, 2.96ERA
Dick Harden: 13GS,  77IP, 20ER, 5-1 92K, 31BB, 2.34ERA
Ryan Dempster: 19GS, 118IP, 41ER, 10-3, 98K, 47BB, 3.13ERA
Ted Lilly: 19GS, 112.2IP, 56ER, 9-5, 105K, 39BB, 4.47ERA  (who, as we know, has done far better in his last 15)
Total IP: 420
Total SO: 368
Total BB: 155
Total W-L: 33-12
Total ER: 154
ERA: 3.30
Comparatively, the other competitive teams in the NL look like the following: 
Ben Sheets: 17GS, 117IP, 36ER, 10-2, 97K, 26BB, 2.77ERA
CC Sabathia: 19GS, 128.1IP, 54ER, 7-8, 128K, 39BB, 3.79ERA
Manny Parra: 17GS, 93.2IP, 38ER, 8-2, 72K, 49BB, 3.65ERA
Jeff Suppan: 18GS, 101.1IP, 53ER, 5-6, 55K, 44BB, 4.71ERA
Total IP: 440.1
Total SO: 352
Total BB: 158
Total W-L: 30-18
Total ER: 181
ERA: 3.70
Philly: 
Cole Hamels: 19GS, 135.2IP, 48ER, 9-6, 118K, 33BB, 3.18ERA
Jamie Moyer: 18GS, 107IP, 49ER, 7-6, 66K, 31BB, 4.12ERA
Kyle Kendrick: 18GS, 98.2IP, 48ER, 8-3, 43K, 32BB, 4.39ERA
Adam Eaton: 18GS, 100.1IP, 58ER, 3-7, 52K, 40BB, 5.20ERA
Total IP: 441.2
Total SO: 279
Total BB: 136
Total W-L: 27-22
Total ER: 203
ERA: 4.14
Arizona:
Brandon Webb: 19GS, 124IP, 45ER, 13-4, 106K, 33BB, 3.27ERA
Dan Haren: 18GS, 117.2IP, 37ER, 8-5, 103K, 20BB, 2.83ERA
Doug Davis: 11GS, 65IP, 27ER, 3-4, 92K, 27BB, 3.74ERA
Micah Owings: 16GS, 92.2IP, 53ER, 6-7, 80K, 29BB, 5.15
Total IP: 399.1
Total SO: 381
Total BB: 109
Total W-L: 30-20
Total ER: 162 
ERA: 3.65
I'd include St. Louis, but let's be fair - even if they acquire Burnett, which they may do, they are sad participants.  They might as well kiss their place in the NL Central goodbye as they spiral down into mediocrity.  
Regardless, the Cubs look good compared with these other guys.  Nobody has as much depth, and even if Zambrano gets out-dueled, at this stage we have to feel confident that Harden or Dempster - or even Lilly - can outpitch the other guys these teams are putting out there.
It's still early - it'll be early until somebody clinches - but things are looking good for the Cubs.
Editor's Note: this post was compiled over about 3 hours, so if it is at all disjointed, that may be why