Game Recap: Cubs 7, Cardinals 1 - the pummelling concludes
Hopefully for the time being, the panic has now subsided. The Cubs entered this series against St. Louis as 1) a crappy road team, 2) a slumping team in general, and 3) a team in need of some wins in order to maintain a distance between them and the second place Cards. They managed to not only accomplish what they needed, but they have actually knocked St. Louis into third! The Cubs now exit St. Louis for Cincinnati as a team 3.5 games ahead of the Cardinals and 3.5 games ahead of the now-second place Brewers (ahead of St. Louis by percentage points).
A statistic that was brought to my attention not too long ago: the Cubs have now played in 89 games. Of their remaining 73 games, they play 16 games against the Cardinals and Brewers. 10 of those 16 games will be played on unfriendly ground, and these game represent a full 22% of all remaining games this year. I suppose we can look at that number in two different ways. Either the Cubs are in for a rocky road because they regularly play the teams closest to them, or, better yet, the Cubs have full control of their own destiny as they play their rival teams often enough to keep them out of the playoffs by merely winning.
They managed to achieve that goal today, largely because of their All Star players. The Cubs scored 7 runs off of 16 hits. All Star third baseman Aramis Ramirez went 2-3 with 3 RBI. All Star catcher Geovany Soto hit a solo homerun - his 15th of the season. All Star right fielder Kosuke Fukudome went 1 for 2 and scored a run. All Star starting pitcher Carlos Zambrano glared at the Cardinals from the dugout. It was great!
The Cubs got contributions from the non-All Stars, too. Ryan Theriot - who was in the top 3 in votes and perhaps could have been an All Star - went 3 for 5. Derrek Lee - who also was a top vote-getter in a crowded position - also went 3 for 5 with a double. Mark DeRosa - another big vote-getter - went 2 for 4 with an RBI.
On the pitching front, Sean Marshall did what he had to do. He went 6 innings on 88 pitches, allowing 6 hits, walking 1, striking out 4, and permitting only 1 run to score - a Ludwick solo shot. He was succeeded by the surprisingly effective Neal Cotts, who struck out 2 and has worked his ERA down to 2.57 on the year. Marmol followed - Marmol being another guy who was almost a sure-fire All Star a few weeks back - and he needed only 10 pitches (7 for strikes) to escape the 8th unscathed. And Bob Howry delivered a soundless, boring 9th, no bubbles no troubles.
Series Recap:
All things considered, it was a successful series. Even Albert Pujols - who certainly wasn't showing his age by going 5-11 in the 3 games against the Cubs - wasn't enough to win it for the Cardinals.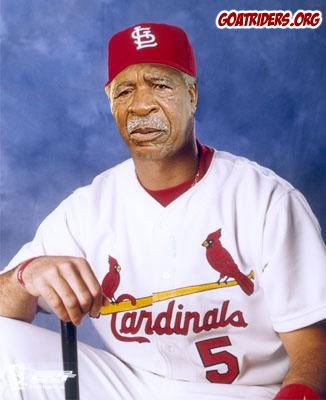 It's exciting to note that the Cubs will have so many more important games against top rivals in the second half. I realize that so many games against the Cardinals and Brewers might evoke panic from some Cub fans, but you know what? We didn't need 7 All Star selections and about 4 near-misses to figure out that this is an outstanding team. I am confident that the Cubs will reach the playoffs, and I don't think it's going to come down to the last day of the season, or even the last week. The Cardinals will soon realize that they are built in part on the arms of converted relievers and the bat of a converted pitcher, and they will return to the median. It's the Brewers who will be a threat through August and September, and they are thankfully managed by Shemp Yost*. I don't know about you, but I'm feeling good about this team.
(*That's a photoshop waiting to happen.)
Current Record: 53-36
Position in the NL Central: 1st place, 3.5 games ahead of St. Louis and Milwaukee
On Pace For: 97-65
Record needed to win 120: 67-6 (okay, fine, so it's not gonna happen, as if that's a shock to anybody but Carlos)