Game Recap: Cubs 4, Cardinals 5 - Snatching Defeat from the Jaws of Victory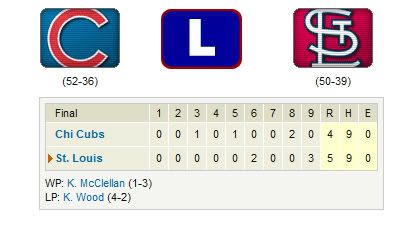 In all incidents, good and bad, I blame Rob.
Kosuke Fukudome, in the throws of a slump, is briefly discussed by Rob. Fukudome responds with a homerun in the first at bat of his next game.
Kerry Wood, having buckled down and saved a close one yesterday, is briefly praised by Rob. Kerry Wood forgets how to locate the strike zone. He walks the first two batters he faces, surrenders an RBI double, and then intentionally walks the bases loaded before almost escaping, and then surrendering the winning hit to the strikeout prone (HINT, HINT) Rick Ankiel.
Rob, you have a mighty power. We must find a way to harness it for the forces of good.
Today's game was definitely an example of pulling defeat from the clutches of victory. The pitching has been the story of the series thus far; Lilly and Lohse both had strong outings. Lohse was picked away at sporadically, however the Cardinals got to Lilly in the 6th for 2 runs, evening the score.
The Cubs then proceeded to reclaim the lead by a Ramirez 2-run homer in the 8th, and with everything looking secure, Kerry Wood trotted to the mound. Actually, I thought he was going to get out of it. After loading the bases with no outs, the Cubs got a force at home and a shallow pop-up. With 2 outs in the game, Rick Ankiel stepped up and mother-effed the Cubs with a 2-run hit that was officially ruled a single because, y'know, the game ended.
I blame the 'roids. But hey, here's what Rick has to look forward to over the coming years.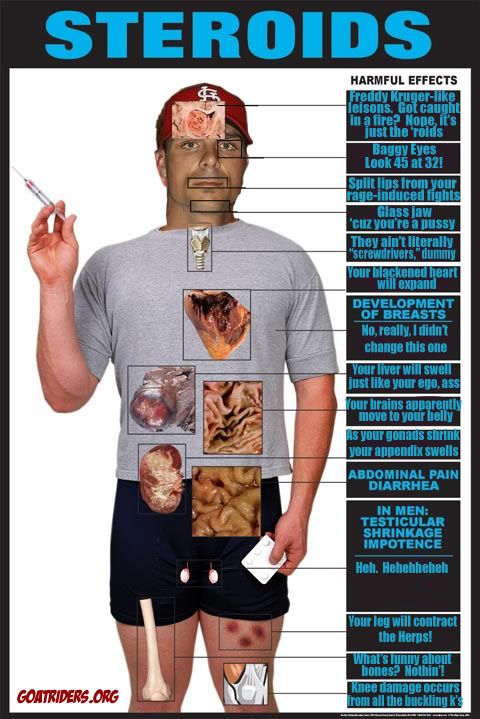 Hey, even the good ones aren't so good once in a while. Woody has been close-to-perfect since the start of June. These games in St. Louis are obviously amplified a little, and a win today would have just kicked ass, but a 9th inning 3-run come-from-behind defeat? Eh. It's a gut shot, but in a 162 game season in which even the best of them lose 60 or 70 times, there will be plenty of those.
Cubs and Cardinals play in the rubber game tomorrow. It's Marshall vs. Wellemeyer, look for the two teams to combine to score 15 or 20 runs.