Game Recap: Orioles 11, Cubs 4; never in doubt

How do you lose to a man named Liz? It was a question for the ages, one which we believed could never be answered. Turns out that we were wrong. Jason Marquis, the Human Rosetta Stone (he'll crack the code of Suck in three dead languages, just watch him pitch) threw with ineptitude today, leading the Cubs to a rare home-series defeat.
It's okay. With four games to go this month, the Cubs have already met my "we'll be okay if they win X games this month" expectations. But it was still painful watching the Cubs squander early opportunities and surrender a copious amount of runs. For instance - the 2nd inning. Radhames Liz took a page out of Carlos Marmol's discarded book and loaded the bases off of one hit. And one HBP, and one walk. He then proceeded to take a page out of George Sherrill's book and induced a fielder's choice and fouled out Eric Patterson.
Following this momentously squandered opportunity, Baltimore took time between high-fiving themselves for having escaped a close one and proceeded to repeatedly display their dominance of Jason Marquis. With two outs in the inning, Marquis intentionally walked the #3 hitter Nick Markakis*, which promptly backfired as he unintentionally walked home a run before Aubrey Huff - who apparently felt inspired by my man-love - doubled in 2 runs, followed by a Jay Payton 2 RBI single before the Cubs managed to limp out of the inning.
(*Imagine if you will an outfield including Markakis and Fukudome, with the great Harry Caray calling the game. That would be must-see TV.)
After allowing 2 more runs in the 4th, Jason Marquis departed for Jon Lieber, who continued the hurting by allowing another run to score. And then, some more runs scored - 3 in the 6th off of the Eyre/Wuertz duo. Now, I knew this would happen. Any time you take a player of debatable ability and defend him, he's bound to immediately do exactly what people were criticizing him about. However, while Wuertz definitely filled the "From Bad to ..." quotient today, even his harshest detractors will have to acknowledge one thing: it cost the Cubs nothing. This game was over the second Jason Marquis crapped the bed in the 2nd.
The Cubs managed to get some offense once Baltimore decided to rest up, and they eventually managed to score 4 runs. 2 of those 4 runs were driven in by Eric Patterson, which just proves that at a glance, anybody can look good. Keywords: at a glance. Patterson had 2 RBI, he could've/should've had closer to 4 or 5, and had he capitalized on his bases loaded chance in the 2nd, it could've/should've been a much different ballgame.
Marquis now finds himself at 6-4, and where his ERA had almost crept to under 4 before this game, it has now climbed its way back up toward 5. So much for the Marquis de Resurgent. Oh well, at least he - and the relievers - managed to keep a lid on Cintron. (Cue photoshop)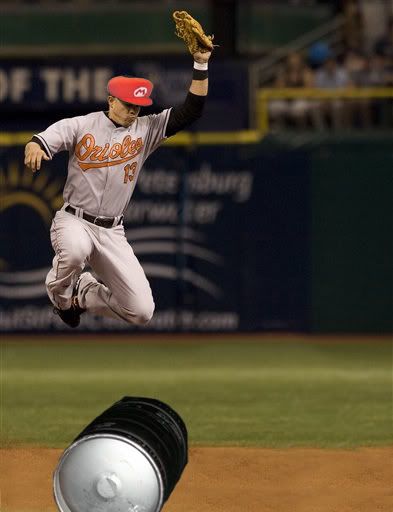 Series Recap: Definitely a disappointing set. The Cubs have been hit-and-miss against the AL, and it's a little disappointing that Baltimore was able to come to Wrigley and play so well. So much for the rumors that the Cubs are stealing signs. On the bright side, the Tigers beat the Cardinals in 10, so the Cubs remain 4.5 games ahead of the 2nd place team in the central. With four games left to go, this has been a pretty good month for Chicago, all things considered. If - big if - they can continue to dominate the White Sox, then they will not just have met my "must-win" expectations ... they will have exceeded them.
Current Record: 49-30
Position in the NL Central: 1st place, 4.5 games ahead of St. Louis
On Pace For: 101-61
Record needed to win 120: 71-12