Game Recap in Brief: Cubs 7, Orioles 4; Jim "F*****G" Edmonds?

I assume that our very own Kyle will have a far superior recap for you later - perhaps when he sobers up - as he was at the game tonight and saw every thrilling moment.
For that reason, I will leave you with only a few thoughts. First: although he may be my favorite non-Cub, Oriole Aubrey Huff went 0-4 tonight. Rough. But, I still like him, and thank him for his contribution tonight that led to the Cubs win.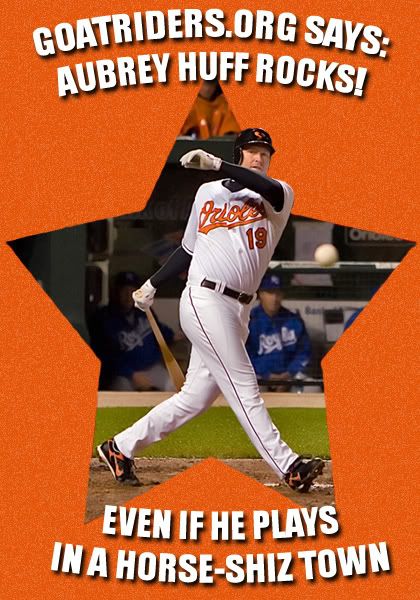 Next. Ted Lilly won tonight; ugly. Actually, his line doesn't look so bad - 5 hits in 7 innings pitched, 2 walks, 4 strikeouts. And yet, for only getting on base 7 times against Lilly in his 7 innings of work - a number that most pitchers would kill for - but unfortunately 2 of those 5 hits and all of those RBI came from the mighty bat of Jay Payton who hit 2 homeruns against him. Payton is now batting .500 against Lilly in 18 at bats with 3 homeruns and 6 RBI. If you looked closely at Lilly after the game, you would have seen an ownership tag with Jay Payton's name hidden somewhere on Ted's body.
Jim Edmonds, meanwhile, continues his courtship of Chicago Cub fandom. I'm just afraid that it's going to end up with Edmonds leaving town with a briefcase full of the fandom's money while we are helplessly chained up to a bedpost, embarrassingly dressed in full leather gear with a Cardinal-red ballgag in our mouths.* At this point, at his current pace, 18+ homers on the season seems within reason, and if he continues to play like this, then Jim Hendry is a friggin' genius.
(*Yep, nothing quite like going too far with an analogy on a blog.) GOATDIRECTIVE #14 - YOU CAN NEVER GO TOO FAR WITH AN ANALOGY
Even more impressively, let's talk about the bullpen. A certain somebody pitched again tonight, and he threw 21 pitches, 16 for strikes. He allowed a hit and struck out two. Marmol's back.
Oh, and Kerry Wood. His 20th save was an amazingly easy one. He came in, he threw 13 pitches, 10 for strikes, and he struck out all three batters he faced. Lilly improved to 8-5, Marmol got his 21st hold of the season - last year's Major League leader was Brandon Lyon, who finished the year with 35. Marmol=awesome.