Game Recap: Rays 5, Cubs 4; uh oh

Hey, I warned you. Tampa Bay is a dangerous team, and give credit where it's due - so far, I've been dead on about this series. Not spend too much time talking about ME! but so far I've predicted ...
Every game should be close and might be determined by one run. Check.
Carlos Zambrano has been less than dominating as of late and he might be vulnerable. Check.
The Rays are a tough team to beat at home and are going to make the Cubs look like the Royals. Check.
The Cubs could get swept. Check.
All of this is a tease for October - the Cubs will get roughed up by the Rays in Tampa, the AL will win the All Star Game, and the Cubs will enter their first World Series in 63 years without home field advantage against one of the few teams they couldn't beat on the road. Pending.
Hey, no team can win every game, no team can win every series, and no team will go a full season without getting swept at least once. I'm not saying for sure that it'll happen tomorrow, but if it does it is by far not the end of the world. This is just God-However-You-Perceive-Him's way of scripting an interesting story. If the Cubs were a juggernaut and plowed their way through every team they play all year long, where would be the drama? The tension? The nerves?
Fine, so there would be all of that stuff anyway, but it still makes for a good story. And if it happens, I demand that you start calling me Nostrakurtis, and you tithe me 10% of your earnings. On second thought, just give me the money, "Nostrakurtis" is pretty lame.
Before I jump into the actual details of the game, I feel the need to point out three more things, quickly. First: Humor-wise, while I may be tipping heavy on the silliness scales right now, I feel like I'm in a pretty good groove when it comes to blogging about the Cubs. So, naturally, I will be away from the internet for the bulk of three days this weekend, which means that when I get back to it on Sunday night, I'll have to requisition my groove back. B) For those of you keeping score, I did not doze off at 8:10 tonight. I made it until roughly 8:45. And Third) If you've ever noticed the whole 1st, B, 3rd thing, it's lame and intentional. And if you don't know what I'm talking about, then that's fine too. Onto the specifics:
Ah, the second triumphant appearance this post of bullet-points.
Sonnanstine proved vulnerable, as we suspected. He surrendered 7 hits and 2 walks in his 5 innings of work, but the Cubs just weren't able to capitalize. And while the Cubs did lead briefly in the third, it was brief indeed.
Carlos's strikeout totals are down, and he's been walking a lot of guys lately. Despite his rough outing, he still went nearly 7 innings and he only looked particularly bad in the 3rd, but it's times like these when I wish the Cubs were in possession of a competent pitching coach who could actually figure out what's going on.  Additionally, it appears as though Carlos left early due to "shoulder discomfort."  Hmmm.  That could be a problem, and perhaps an explanation for the loss of stuff and increase in walks.
Derrek Lee struck out with runners in scoring position twice tonight. I don't want to get on D.Lee, who remains a solid bat in the Cubs lineup, but c'mon, his strikeouts are way up and his discipline is way down. He needs to be dropped down to the cleanup spot. I'd rather see Ramirez in those situations.
Fukudome got on base 2 times in 5 plate appearances. For those of you far too lazy to do your own math, that's an OBP of .400.
Jim Edmonds left the game with a sore foot. Kenny Lofton?
In the 9th, the Cubs again teased a comeback on Troy "Frankenarm" Percival. They again came up short. Since I'm Nostrakurtis, I predict ... if Percival comes in to close out a 1-run game tomorrow night, the Cubs are going to rip him a new elbow wound and a new ass hole.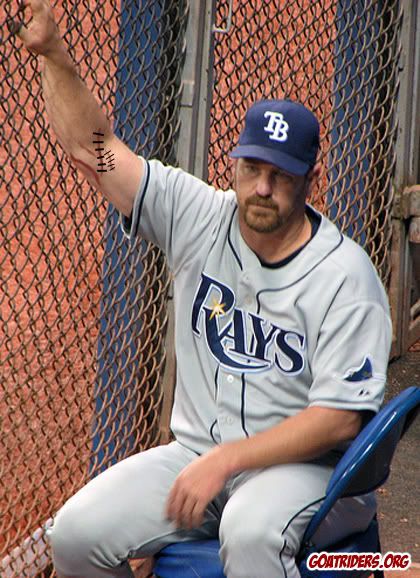 Ultimately, while this was a painful loss, let us not forget - the Cubs hold a commanding lead on most of the teams in the NL Central, and as I write this the Cardinals are trying their hardest to lose again to the Royals. The Royals! Keep on smiling, Cub fan nation, and stay skinny.