Game Recap: Cubs 7, Jays 3, Keep on Truckin'
It's halfway into June, and the Cubs have won 10 of the 14 games I projected they needed to win to do well this month.  If Chicago can go 4-9 the rest of the way out, then they will have met my lowest expectation for the month.  At this stage, I have a strong feeling that if the Cubs "only" finish one game over .500 in their roughest month of the season, then we'd all be pretty disappointed.
On the contrary, the Cubs are continuing to play great baseball against tough teams.  Although they are under-performing and their manager is on the brink of being fired, the Jays are not easy to beat here in Toronto, and yet the Cubs did well to make it look easy.
Today, the Cubs scored 7 runs before the Jays even managed to score 1 off of 12 hits, and only 1 of those 12 hits was a homerun.  In fact, the Cubs scored all their runs but 2 off of singles - a sight that would have been uncommon back in the days of Dusty.  Every Cubs regular except DeRosa got at least 1 hit, none got more than 2, the team collectively drew a solitary walk, and Aramis Ramirez hit his 10th homer of the year.
Ted Lilly, meanwhile, gave the Cubs another reasonably solid performance.  I describe it as such primarily because Theodore Roosevelt Lilly gave up a whole whack of walks in his 6 innings pitched - 5 guys.  He also managed to strike out 6, however, and more importantly he allowed only 1 walk.  He was relieved by a Cubs bullpen that hemorrhaged runs - 1 by Eyre, 2 by Cotts, and even 1 by the solid Kerry Wood - but the Cubs escaped with another victory and a series win against the Jays.
Series Recap: 
The Cubs did what they needed to do.  They came to Toronto, played a tough Blue Jays team, auditioned A.J. Burnett who gave a solid performance and earned me a free slice of pizza, and most importantly, they took 2 of 3.  The Cubs are now 20 games over .500, and in spite of a Soriano injury, they appear to be cruising.  Not even the appearance of a handful of reCards could stop the Cubs, who now travel to Tampa where they will play their soon-to-be World Series rivals.  Should be a lot of fun.
Lastly, I would like to thank Byron for posting a handful of times today, including an abbreviated recap, while I'd also like to apologize for my own abbreviated recap.  I have a tremendous, painful headache and will wrap it short with a photoshop: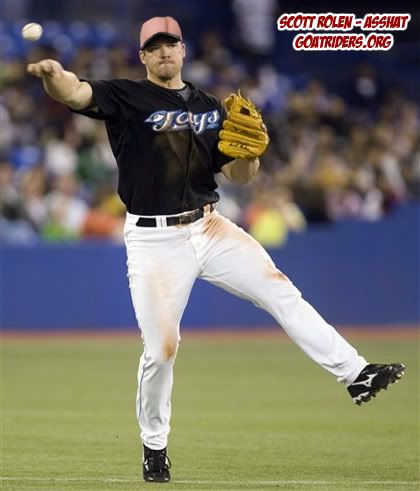 Current Record: 45-25
Position in the NL Central: 1st place, 3.5 games ahead of St. Louis
On Pace For: 104-58
Record needed to win 120: 75-17