Game Recap: Cubs 2, Dodgers 1, Insert Sweep Cliche
If you told me four days ago that the Cubs would score 8 runs in 3 games and still manage to a) not only win their series against but b) actually sweep the Los Angeles Dodgers, I would have waited until you left your home in order to sneak in and loot your clearly awesome drug supply. And yet, you would have been right.
The Cubs played some fantastic baseball this weekend. They didn't dominate the Dodgers. In fact, they made a handful of boneheaded defensive gaffes in pretty much every game while mostly leaving their bats at home. But what the Cubs did right sounds simple, even though it's not - they held the Dodgers to 3 runs and they got the big hits when they needed them.
Tonight, Carlos Zambrano failed to win, but he did keep his foot to LA's throat for 8 innings. He also tossed a whopping, Kerry Woodesque 130 pitches. Thankfully, Zambrano's arm is indestructible and his shoulder is too afraid of Carlos to suffer any kind of serious injury. I think that Carlos could break his pitching hand and he'd still march out there and battle through five or six innings of work. Carlos Zambrano is just that tough. An arm injury? No problem. A fleet of Chinese tanks? Stand back.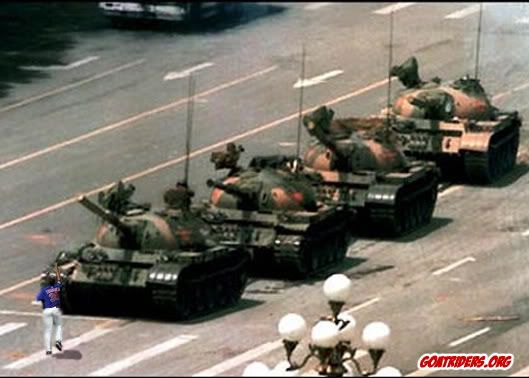 More important than Zambrano's workhorse appearance was the hitting of Alfonso Soriano. I know he gets a rap about being selfish, but I will reiterate that he isn't Sammy Sosa. Imagine if Sammy had found himself in the Fonz's situation in the 10th inning. The Cubs had a runner on in the pesky Mike Fontenot. Had Sosa been up to bat, we would have seen the familiar sight of three massive, gust-inducing hacks, none of which would have come anywhere near the location of the baseball.
Alfonso, meanwhile, did not hack away at the ball. Instead, he did something I would have paid good money to see from Sosa in September of 2004 - he took a short swing and hit a single, driving in the winning run in the 10th.
Oh, and did I forget to mention that Soriano would never have been in that position had the Cubs not battled in the 9th to score their first run of the game? Against a guy with a sub-2 ERA? Did I mention that? Just checking.
Series Recap: All is well in Wrigleyville tonight. The Cubs are now 11 games over .500 and they play the horrible Rockies. During my conversation with Jon Miller earlier today, he pointed out that, while the Cardinals and Astros were playing well, they've already played about twice as many games as the Cubs against the horrid NL West, also known as The Worst Division in Baseball. The Cubs still have a lot of games against some easy teams; Colorado is just one of them.
As far as the Dodgers go, I for one am happy to thank any team that can hold the Cubs to 8 runs over 3 games and still get swept. Perhaps they would have had better fortune had Nomar played ...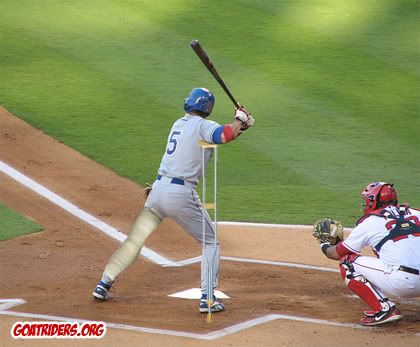 ...naaaaaaah.
Current Record: 32-21
Position in the NL Central: 1st place, 1.5 games ahead of St. Louis
On Pace For: 98-64
Record needed to win 120: 88-21