Series Preview: Brewers at Cubs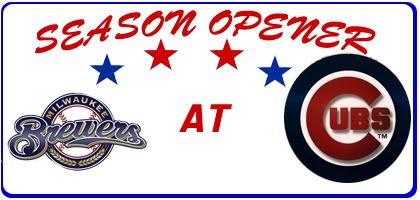 Game Time and Pitching Match Ups:
Monday, March 31st, 1:20PM Central Carlos Zambrano (18-13, 3.95 ERA) vs. Ben Sheets (12-5, 3.82 ERA)
Wednesday, April 2nd, 1:20PM Central Ted Lilly (15-8, 3.83 ERA) vs. Jeff Suppan (12-12, 4.62 ERA)
Thursday, April 3rd, 1:20PM Central Ryan Dempster (2-7, 4.73 ERA) vs. Dave Bush (12-10, 5.12 ERA)
Game Notes: As Kyle noted in his most recent post, the Cubs have never opened this early at Wrigley Field in their history.  It's earth shattering.  It's ground breaking.  It's ... it's ... really going to be cold!  While it certainly bodes badly for the Cubs that they are playing in such frigid weather to start their season, we have to consider something that people also often forget whenever they complain about all of Chicago's day games.  And that one thing is that I like beer.  No, wait.  I meant to say that it's actually an advantage.  Look, not only do the Cubs have to play in the cold air of Chicago, but so do the Brewers, and the warm-weather Astros, and the Reds, and the Pirates, and the Mets.  That's an advantage for the Cubs.
Another advantage is the pitching.  Sure, Zambrano-Sheets is a wash.  Actually, the opener just might be in the favor of the Brewers if only because Carlos gets really, really excited on the first day of baseball that counts.  He's bound to throw a fastball through a brick wall - or Prince Fielder's gut, whichever comes first - although he did display last October that he can pitch well in meaningful games.  But, apart from the wash that is Carlos and Ben, I'd take Lilly over Suppan every day, and Dempster, for as bad as he might be, will probably be at least as effective as Bush, who's never had much luck against the Cubs.
In fact, over the past three years, the three Brewers pitchers in this series have done the following against the Cubs:
Sheets: 2-2 in 7 starts with a 4.64 ERA
Suppan: 3-3 in 10 starts with a 2.60 ERA
Bush: 1-5 in 8 starts with a 4.36 ERA
Looks to me like the Cubs have a better than 50-50 chance of taking 2 out of 3.  Anyway, this is going to be a fun series, and it will almost certainly be important.  At the end of the season, the Cubs and the Brewers are likely to be close.  Every win is big. 
Predictions: I think it's a safe bet to say that the bullpens will play big roles in his series, and that the games will all be low-scoring.  I'm not sure exactly why, but for some reason cold weather always bodes badly for high octane offenses.  Look for Fukudome to have a tough series with a couple of warning track blasts before he adjusts and starts smacking around singles.  Carlos will hit the mascot with a heater at least once, and fortunately for the Cubs, the closest thing they have to a mascot is Ronny Woo.  Oh, and Ronny Cedeno will get some huge clutch hits.  How do I know this?  Because he's going to do something immense early on this season in order to make it hard for the Cubs to release him, even though that is exactly what they will do at some point in 2008.
And don't forget, kids.  What happens when Ben Sheets faces the Cubs?