Your 2008 Cubs - Ryan Dempster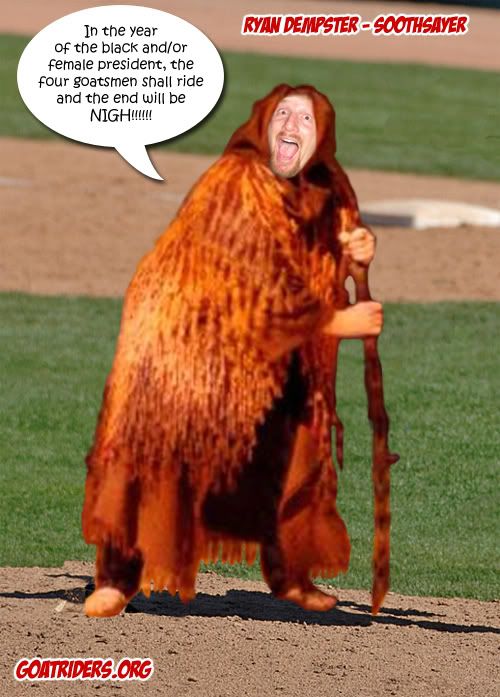 Barring a catastrophic, Draveckian-type tearing of sinew and bone, the suddenly Rambo-ian and Nostra-effin-damian Ryan Dempster will be your 3rd starter in your 2008 Cubs Rotation, brought to you by Old Style, or Fifth Third Bank, or whoever the hell else decides to buy the 'naming rights' for THAT aspect of our team from Zell's Bells.
Yep, Lou hearts Dumpster, big time. I guess particularly compared to the Marquis de Suck, a man who runs up Camelback Mountain daily in the name of cardio-fitness will tend to shine in his dear old Manager's eyes.
(Major diversion from the Dumpster for a sec, he's a man with a wacky Canuck sense of humor, I'm sure he will be copasetic with it. I just realized the other day that Uncle Lou is the best manager the Cubs have had in my lifetime (1964-present). F*%k Leo the Lip and his inability to play his bench. A brain-damaged manatee with a boat propeller stickin' out his fat skull could have managed that 1969-era team to ONE division title, for cripes sake. Lou Pinella entirely and completely does things the way I would, I have unconditional support of him, and I guess if that makes me old, crusty, and slightly Cuban, then God bless me, mix me a bloody, and pass the Cohibas. Who would be second, in my book? Jim friggin Levebre! How's that for a drop-off?)
Anyway, back to the frustrated left winger and Psychic to the Stars. I don't know which Stars, maybe his teammates, like Derrek Lee. Maybe like Mike Modano and them down in Dallas. Maybe like Tom Cruise and them, I dunno. I must admit I AM partial to persons who are a) dipshits, b) Canadian (may be redundant), c) active in the community during the season, d) were nice to Kerry Wood the past few years, and e) are able to nicely strike a balance in his media whorism to where he isn't too overbearing, yet.
He had the mental fortitude, like such luminaries as Rod Beck (RIP), Sweaty Joe Borowski, and IMHO Bob Howry to close games reasonably well without having the Really Good Stuff. He really does not have a justification in his own belief that he deserves to be a starter. Sure, he was a highly touted Marlins prospect at the turn of this century, and he was Dusty-fied, ironically enough, by someone other than Dusty.
Let's engage in a brief peek in the baseball Glossary. An 'innings-eater' is a member of a starting rotation who pitches well enough to keep his team in most games, even though he loses almost as often as he wins.
Having eaten an average of 210 innings a year in his age 23-25 years for the Marlins, he then received his membership card in the mail from the Dr. Andrews/Prior/Wood Club for Men, and has spent the last five years or so lamenting his wasted potential as an Ace starter. Unable to snap back to anything resembling even "innings-eater" form during trial starts in 2005-6, and in LaTroy-centric desperation, he was anointed the closer and gutted his way to moderate success for us.
Now, the man is admittedly in the so-called 'best shape of his life', which IS an important consideration when attempting to start games during the bone-chilling April cold of Wrigley, not to mention 1:05 Thursday afternoon starts in August. Hopefully, he likes water more than Zambrano, and will be able to remain cramp-free for more than five innings during those occassions.
For it is almost certain, to summarize, that he will begin the year following Lilly and preceding Hill, and his off-season work and recent good form impresses me. I am always eager to give a free spirit credit when he or she 'buckles down' and tries to be serious about his craft. I myself had an epiphany or sorts when I was 31, something to the tune of it was time to stop f%$king around with my life, and it could happen here with Dumpster, too. I can see him having a year like he had with Florida, 210 innings, about 15-11, an ERA of 4.65. He needs to keep the ball in the park, and I hope that he and Rothschild (somewhere, Mike D. cynically shakes his head) are cooking up a plan for that.
This is decent output for a fourth starter, except that he is pitching 3rd. Yeah, there's probably, what, one start's difference between the chances he will get and those that Hill will get? Fine, then Hill can start Game 1 of the NLDS. Hey, Dumpster said we're winning the whole Fiesta Platter. Gotta play the NLDS first, right?