A June Boon might lead into a Sky-High July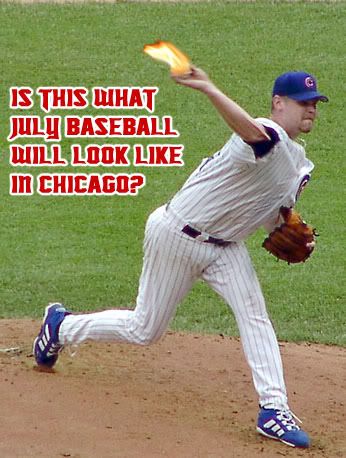 With only a few more games to play, the Chicago Cubs have had a pretty awesome June. Their record currently stands at 16-10, and the team seems to be heating up at just the right time.
They are entering a three-game series against the first-place Brewers, and if they can take two-of-three, they will be a .500 team as they near the All Star Break. Can you complain? I can't complain. And the team could get even better.
Let us consider the case of Kerry Wood. Wood, who has disappeared into obscurity this year, may be back pitching with the Cubs by the end of July. While it would certainly be a mistake to count on Wood at this point, can you imagine what a healthy Wood would bring to a Cubs bullpen? No matter what role they stick him in - setup man, middle reliever, closer, left handed specialist - Wood automatically becomes the best in the pen. The Cubs are already enjoying some good pitching from guys like Howry, Wuertz, Dempster, and Marmol - imagine how lights out they might become if Wood is thrown into the mix.
Geo Soto may also be ready to join the ML team. Soto, who is currently recovering from a sore shoulder, is hitting .327 at Triple A with 10 homers and 47 RBI. He may provide a surprise bat for the team in the second half of the season.
In the outfield, the Cubs will soon hopefully be rid of Jacque Jones, if their asshole controlling interest will let them spend the money necessary to win. The removal of Jones will in fact be an addition.
With a little luck and continued perseverance, these guys just might make a surge for the division title. Wouldn't that be sweet? I can't wait to find out.