No arb hearing for Cubs, Marmol
The Cubs and Carlos Marmol met halfway today and agreed to a 2010 contract worth around $2.1 million.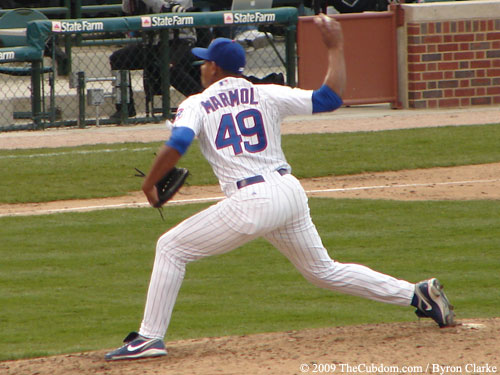 In my mind, this is fantastic news. The arbitration process would have done nothing good for the team or for the player. Marmol has one of the top three nastiest sliders in all of sports; but last year he frequently lost concentration, walked a ton of men, and also hit a ton as well. There is plain old wild - an Andy Pratt-esque character, that comes and goes just as quickly. There is effectively wild - like Kerry Wood, which is usually accompanied by a 100 mph fastball that hurts people when it hits them.
Carlos Marmol entered his own wild category last year. Not since Mitch Williams have I seen a guy dig himself more holes, then fill them back in more often than not. I believe that, as he becomes more mature, that Marmol will harness his stuff and learn to focus on the task at hand. By all accounts from the beat writers, he is a very immature man, and has nowhere to go but up in that category. Thus, he still has a tremendous amount of unrealized potential.
He knows that; his agent knows that, and the Cubs know that. But in an arb hearing, by design, there will be conflict. Marmol is a very emotional guy, and I don't think he wants to hear about his shortcomings, and how far he needs to go before he truly deserves big money. He more than likely thinks he deserves it now - he is the closer for the Chicago Cubs, for pete's sake!
On the other side, obviously Jim Hendry has NEVER officiated an arbitration situation - the last Cubs arb hearing involved Mark Grace! It is safe to assume that Hendry may be a person who avoids conflict, which is a fine human trait; yet, as the General Manager, perhaps it is a positive thing to call the players' bluff from time to time. It might in the long run serve as an aid to determining the true worth of your players.
Ryan Theriot is still far apart from the Cubs, and most likely will become the first Cubs arbitration case since Grace. I for one welcome that particular opportunity. Theriot is a decent second baseman, playing shortstop, he hits for a high average, but still ends up with a weak OPS, he supposedly adds 'intangibles' to his club, yet he is the dumbest Cubs baserunner now that Ronny Cedeno is carving divots in basepaths elsewhere.
I think an arb hearing will be constructive for the Cubs and The Riot. He's a tough enough boy to deal with the criticism; in fact, it may not hurt for him to hear it. If he can cut down the mental mistakes in his game, he may end up with a long, productive career. He is over 30 years old, while Marmol is a young 27. Both men, if all goes well, will get Paid in this league.
But I am not yet ready to hear about a man bursting into tears at an arb hearing. Hooray for the Cubs and Marmol for reaching an agreement before that happened.