Jersey love
Today was supposed to be the promised "Cubs jersey of the future" post, but I decided it made more sense to "air" it on Wednesday morning.  Instead I'm going to highlight some of my favorite all-time jerseys and hats, as limited by  I'd also like to preface this post by directing you all to the Cooperstown website, which offers a database of almost every baseball jersey ever made.  Feel free to go there and see if there are any that grab your interest as mine was grabbed.
These jerseys are limited to the available pictures.  Since this is a Cubs blog, I'll start with Cubs images:
Some people call it an insult on tradition.  Others say it's a softball jersey at best.  But for the first 9 years of my life, this was the road jersey I grew up watching:
It's patriotic, it's colorful, it's effin cool.  I was disappointed in 1990 when baseball as a whole decided to take the more traditional route and reverted back to button-down fronts - I can't contest that one - and grey road uniforms.  Luckily as time went on, the Cubs eventually reintrodced the blue alternates which I remember became very popular with the team in 1998, eventually becoming the defacto road uniform.  It's not quite as snazzy as the old school blue, but it's stll pretty awesome in my opinion: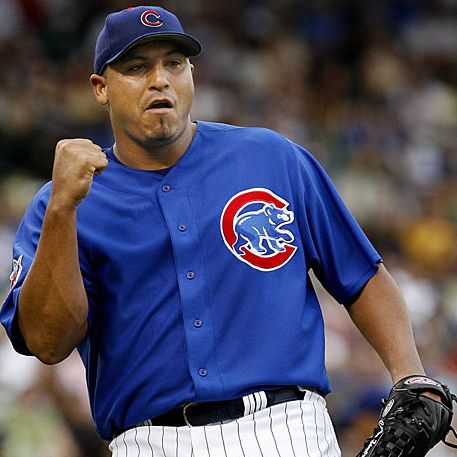 Go on, tell Carlos he's wrong to love that jersey.  I dare you.  The only problem with the current alternate blue is that, on the road, they wear it with their grey pants.  Blue and grey - not a great combination unless you're battling for the freedom of a people.  I digress.
As I mentioned on Sunday, here in Toronto the Blue Jays have enacted a ballpark promotion that actually works.  (Mostly they seem to think that the objective of getting people into the Rogers Centre is to distract them from the game played, so they have a dance troupe, a lame mascot, and ridiculously loud music that contributes nothing to what's actually happening on the field.)  They started throwback Fridays, in which their players would dress up in the following uniform:
The powder blue was never the home uniform of the team, but the hat is frigging awesome.  There's just something about it looks cool.  And suddenly, for perhaps the first time in their 30-year-existence, the Jays were actually at the front of a movement in terms of baseball style.  Suddenly, we saw those hats everywhere again:
Thing was, the Cubs never actually wore a hat resembling that style.  A good number of teams in the 70's, 80's, and early 80's did, however.  If I had bottomless resources, I'd strongly consider buying these hats:
Admittedly unattractive, this Brewers cap regrettably looks as if a player was taking a leak and then lost his hat in the bowl before he had the chance to flush.  Actually, I'd take a pass on that one, as well as this one out of San Diego:
But more attractive than those two are the hats worn by teams like the Orioles, Braves, and Expos:
Back to the Cubs, there's one Cooperstown jersey in particular that I would love to own but I've never seen it for sale:
Outside of the Cubs, I wouldn't mind adding these jerseys to my collection:
If I wind up with the Expos throwback hat, then I might try to obtain one of the above jerseys but with Andre Dawson's name and number on the back (thereby showing my Cubs love even while not sporting Cubs merch).
I really appreciate this jersey a lot, too.  I'm torn between it and the road jersey, but the powder blue might be too ugly to own.
I even have an appreciation for this jersey, which is admittedly borderline ugly:
Yep, in other words I have gone retro 70's and I'm staying there, baby!
Anyway, over the past couple of days I've been tinkering with Cubs jersey redesigns.  I'm going to post my creations tomorrow morning.  I'm sure you can guess which era they will be inspired by ...