For the sophisticated shopper
And this will be the last post hawking our shizz probably until March when everybody will really be Cub crazy.  Anyway, in the ShoutBox Goat Reader John says "damn you and your prices!!" To which we reply "no, damn Cafe Press!"  However, I hear what John is saying - things can be a little pricey on Cafe Press.  Therefore, I'm going to make this post, a list of the most inexpensive items we sell.  Hopefully you will find something which grabs your eye.
Oh, and P.S. All but 2 are under 10 bucks.
Woman's Goat Riders Tank Top $15.99

Ladies of GROTA, this is the least expensive shirt Cafe Press sells for you.  Yes, just like when you get a haircut, regardless of the length you wind up paying more (sorry about your luck, just remember that you not-so-secretly rule all us men).  Imagine a warm May ... well, July day in Chicago.  You're walking down the street toward Wrigley, and all the men - and women - can't stop staring at your chest.  Yep, that's what will happen if you wear this tank top.  And it can be yours for just $15.99 plus shipping.  Can you resist?  No You Can't!
Friends, this is the most inexpensive shirt in the GROTA store.  If you believe the Cubs can win the World Series in 2009 and if you want to show your dedication to GROTA, then this shirt is ideal for you.  Get it now for just $9.99 and if you call in the next 15 minutes, I'll throw in not one but two autoplungers for free.  That's right, keep those toilets clear of blockage with the autoplunger!
This is the Year Wall Clock - $12.99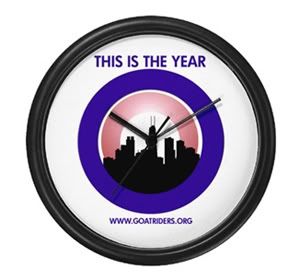 What time is it, you ask?  It's time to win the World Series!  With this kick-ass Wall Clock, you'll never forget that it's time to win.  Also, don't forget that it's ambiguous so you won't have to buy the 2010 model if the Cubs fail in a despairing act of heartbreaking misery!
Yes They Can 3.5" Button - $4.99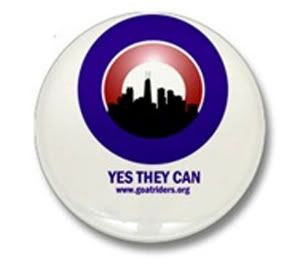 Perfect for coats, shirts, backpacks, and dreadlocks, the Yes They Can 09 button is a perfect way to demonstrate not just your faith in the Cubs, but your enthusiasm for GROTA.  And at five bucks, it's a deal that just can't be beat!
Yes They Can mini button - $1.99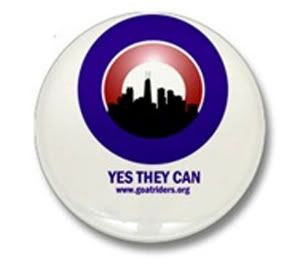 If the big whopping 3.5" button is too garish for your tastes, then perhaps this mini button is more up your ally.  Not only is it small, but it's affordable!  Besides, if ever attacked my ninjas it could be a tiny weapon of self-defense!
Yes They Can mini button 10 pack - $9.99

But wait!  More buttons!  If you want to share the love with your friends while spreading the word about GROTA, these mini buttons are an awesome bargain.  Think about it - 10 people, 10 gifts, only 99 cents per person!
This Is The Year rectangle magnet - $4.49

Do you own a fridge?  I do!  Know anybody else who does?  Like a Cubs fan, for example?  If so, then this rectangle magnet is a great gift!  And hey - if you have some crazy-ass friend who doesn't believe in modern day conveniences, you could always give it to him as cruel gift.  One look at it and he'll wish he was cool enough to own electrical appliances - and yes, this is exactly what I give to the Amish folks who live back home in Western NY.
Yes They Can 09 magnet - $3.99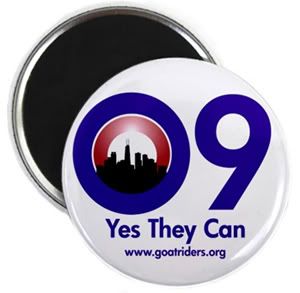 Hey, if you don't love my propaganda poster image and would rather I bite off Obama, then buy this puppy.  By the way - a conservative friend of mine assures me that after the first three or four months of 09, nobody will want to buy anything associated with our new President, so buy 'em up before you turn on Obama!
Yes They Can mini poster print - $7.99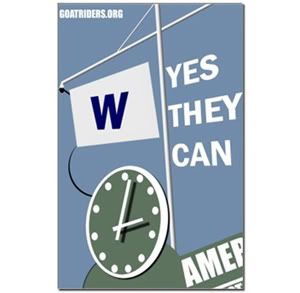 These cool posters measure 11" x 17", and are perfect for dorm or cubical walls.  Besides, they're my first real piece of digital art.  Buy one.  Own it.  When I die, it'll be extremely valuable!
Yes They Can 09 rectangular sticker - $4.99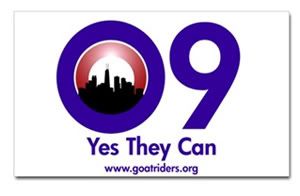 Perfect for a piece of luggage or a White Sox fan's car.  It's either a perfect expression of your feelings for the Cubs or a cruel joke that will leave your Sox fan friend angry and annoyed.  How can you beat that?
Yes They Can 09 oval sticker - $4.99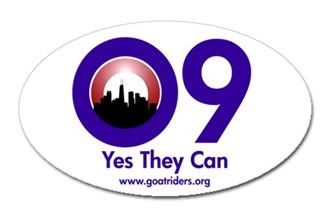 I'll tell you how - with an oval version of the same sticker!  This sticker was specifically designed to celebrate the female form.  Oval sticker.  Ovaries.  Boobies.  Think about it.
Yes They Can bumper sticker - $4.59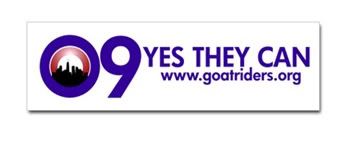 The final item of our Cafe Press shopping spree is the Yes They Can 09 bumper sticker.  Imagine a conservative Cub fan driving behind you.  Imagine the rage he'll feel when he recognizes that, no, it's not an Obama logo - it's for the Cubs!  Oh, the bitter irony!  And then, imagine that somehow, someday, President Obama sees the same logo.  He, a White Sox fan, forced to see his immortal image perverted for the Cubs!  Could it happen?  Yes it can!  Be a part of the movement!  Buy this sticker today!
And with that, my friends, the sales pitch ends for a few months.  I hope we have something that interests you.  And with our least expensive item coming in at $2, I'm sure we have something you can afford.  Thanks for the patronage, and keep on keepin' on!