Game Recap: Cubs 5, Braves 6 -- Come on, dude.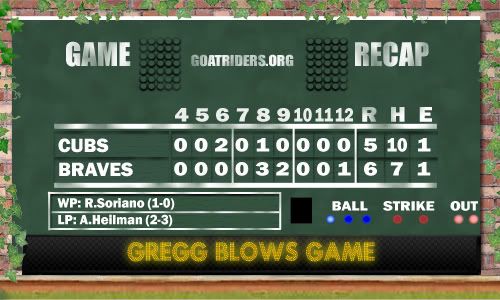 I had something ready to go for the Shout Box after the 6th inning. I was about to say, "Apologies for the jinx, but we should win every game in which we have a lead of more than 3 runs thru 6."
I didn't say it, because I didn't think you could apologize a jinx away. As it turns out, the Cubs didn't need my help in giving this one away.

You know what? We damn well SHOULD win every one of those games. We have guys in the 'pen capable of getting six outs when working with that sort of margin.
We got EVERYTHING we could ask for from this team: seven strong innings from our young starter Randy Wells (he's ACES, isn't he?); home runs from two of our veterans; five runs total from our occasionally inept, consistently inconsistent offense.
We got EVERYTHING--except six outs from a 'pen given a five-run lead.
Whether Marmol stays in the set-up role and Gregg keeps closing, or Lou changes the order in which they're brought out, the fact is, we're going to need BOTH Marmol AND Gregg to pitch a heckuvalot better in the near future if this team's gonna start winning consistently at any point.
Unfortunately for tonight, the result looks like another variation on a common theme from the 2009 season thus far.
Just a few weeks ago, the offense was the problem. So of course it makes sense that, just as the bats start to look like they're getting hot (aside from Soto, who had his bat taken out of his hands at a pivotal point in the game), this happens.
Oh yeah, and "Don't Wake Daddy" (so named because he'll probably pull something if you startle him) strained his calf running out a grounder.
I guess we should try to end on a positive note. Umm... Randy Wells is awesome? Seriously, Wells just keeps rolling. He deserves a ton of credit for giving this team a chance to win each night he's started. I look forward to his next start. Let's get him an effing win sometime soon, huh?
...Go Cubs?
Guh.