Game Recap: Cubs 1, Padres 3 -- Wells Solid Again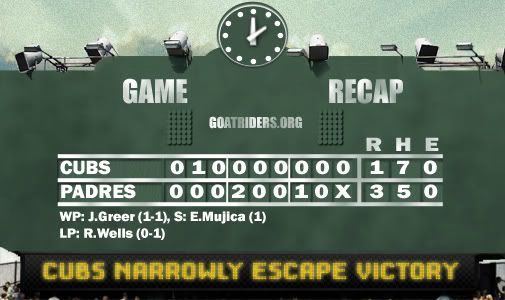 Throughout this entire losing streak, the Cubs' pitchers have really found a groove.
In particular, Randy Wells continues to be a joy to watch on the mound. Sure, the scoreless streak is over, but his "Extra Base Hits Per Start" rate (it's an official stat, look it up!) remains below one. Wells allowed just one double in last night's game, a double to Brian Giles in the 4th inning. And seven strikeouts to just one walk? I like it.
The offense? It's just bad timing. We had more base runners than the opponent, and, for once, more home runs. But Derrek Lee hit his HR at the wrong time, and we only managed to score once.
Anyone realize we still have a winning record this month? It's on the line in today's game, however.
Go Cubs!